The concept of celebrity romance as publicity tactic has existed since at least the dawn of the entertainment business. A natural extension of the well-oiled Hollywood machine, placing two up-and-coming talents together and suggesting they smooch, as if they were real-life Barbie and Ken dolls handled by a child, not only feeds into the public's desire for allure on and off-screen, it almost certainly doubles the kind of media attention those individuals would receive on their own. As a lifelong Directioner, the short-lived yet deeply important 2012-2013 partnering of a young Taylor Swift and Harry Styles strikes me as a burning example: take country music's beloved teen talent, introduce her to the biggest boy-band heartthrob on the planet, and together you've got a power couple with immense cultural currency at the top of both worlds. The right pairing of personalities is an almost impenetrable fortress, guaranteed to make money and headlines.

Cardi B and Migos rapper Offset are the latest celebrity coupling whose authenticity has been a source of intrigue. Almost every milestone in their relationship has been extraordinarily public. In a January 2018 interview with Rolling Stone, Offset claimed he met Cardi when he had a publicist set up a dinner with a variety of women in New York. (An audition?) He liked Cardi ("Damn, I am on her!" he recalled saying) and brought her to the 2017 Super Bowl for their first date. "That's a power move!" he said of the gesture. While there, he live-streamed them together. Fans also spotted them holding hands.
If Cardi B and Offset's relationship was the genius manufacturing of a publicist, it seems likely that what started out as a setup became a marriage of genuine love, and later, convenience. In headlines, they appeared inseparable. They spoke about each other incessantly. Retrospectively, it was short, but longevity isn't really a key feature of most celebrity relationships, anyway. Their love was typically hot, heavy, and brief, perhaps sped up by public pressure. What's the purest a celebrity relationship can hope to be, anyway?

As a source told Page Six last week, stating the obvious, "Celebrity couples play well. It was a lucrative business arrangement for both [Cardi and Offset]. They're enormous stars. Their relationship was more of a wink-and-nod, we're together, but we're not together. They played it up for as long as they could." Just days prior, Cardi posted a now-expired Instagram Story in which she revealed, "I've been trying to work things out with my baby's father for a hot minute now. We're really good friends and we're really good business partners... but things just haven't been working out between us for a long time." The inclusion of "business partners," in her statement feels particularly telling—this is language that confirms mutual publicity was at least some part of the framework of their relationship. That doesn't mean it was the entirety of it.
G/O Media may get a commission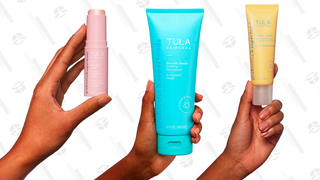 Consider the 2018 trend of rushed celebrity engagements after months of dating. Pete Davidson and Ariana Grande got engaged after just weeks of hanging out and broke things off in October. Justin Bieber and Hailey Baldwin got engaged in July and married in October with relative privacy—no wedding, just the paperwork. Also in July: Nick Jonas and Priyanka Chopra were betrothed after two months of (public) dating. They tied the knot in December over the course of several days in a traditional Indian wedding. Nick and Priyanka kept their relationship mostly hush-hush until it became too large to conceal, and when that became apparent, they allowed People exclusive access to their wedding. The photos, like them, were gorgeous. But simply by getting together, all famous parties enter some kind of unspoken business arrangement, the degrees of which vary. The public, inevitably, becomes fascinated with how much of it is real.
---
Authenticity is often measured by how much the couple chooses to keep private. On Valentine's Day 2017, Cardi B posted an Instagram video of her and her "babe" Offset. The next month, she told The Fader, "I'm not saying I'm dating an Atlanta guy," all but denying their relationship. In July, Cardi showed off a $60,000 chain that Offset bought her while the two of them attended a Meek Mill show. In October, Offset proposed to Cardi during one of her shows, in front of a crowd of 21,000 people at the Wells Fargo Center in Philadelphia. When asked why he chose such a public gesture, he told Rolling Stone, "So she wouldn't think I was playing. Let the world see that shit. I must have spent half a million on that [ring]."

December 2017 was perhaps where things started to go south, but the couple was still as transparent as ever: Cardi mentioned Offset in "Bartier Cardi," her followup single to "Bodak Yellow," with the line, "Cardi put the pussy on Offset (Say what?)/Cartier, Cardi B brain on Offset." Around Christmas, there were rumors that Offset cheated on Cardi, and in January 2018, she tweeted and deleted, "Why is it a problem that I want to take my time with a decision on my relationship ?" and "Why do I have to explain myself? I don't ask ya why you still with that man that lives with his mom, that don't pay your bills… Since when you guys had perfect relationship?" In March, she dropped the single "Be Careful," which read like a thinly veiled plea to Offset: "Be careful with me, do you know what you doin'?/Whose feelings that you hurtin' and bruisin'?/You gon' gain the whole world/But is it worth the girl that you're losin'?"
It's surprising then (or maybe not) that her debut album, released in April, is titled Invasion of Privacy—an allusion to both the public's watchful eye, which Cardi has continuously engaged—and warnings meant for Offset to heed. The song "Thru Your Phone" might be the most condemning. She raps:
"I don't wanna hear 'bout invasion of privacy/I had a feeling, it turns out you lie to me/I'm holding back everything that's inside of me/How you all fuckin' with bitches that follow me?/You risk your whole home for a hoe from the bar?/You really want them hoes?/You can have them bitches, you don't even cheat with no badder bitches/This shit is eating me, you sleeping peacefully."
The week that Invasion dropped, Cardi B revealed a baby bump on Saturday Night Live to announce her pregnancy which simultaneously promoted her album further—a PR dream. The only private moment in their whirlwind relationship was their wedding in September 2017, which they kept secret for the better part of seven months. But what's a more interesting pop culture story than a secret marriage later uncovered? Even when they separated in December 2018, Cardi B posted the first photo of their child, Kulture, as a brilliant distraction.
Only so much can be theorized without the couple directly admitting an arrangement, which rarely happens. In September, rapper Lil Xan disclosed that his month-long relationship with Noah Cyrus, Miley Cyrus's little sister and up-and-coming singer, was fake, created by their major label to draw attention to this next generation of stardom. (Cyrus denied the claim, arguing that it's a "joke" to think their relationship was a hoax.) It's rare that a star (granted, a naive one) would admit to industry interference, and it probably earned him authenticity points with fans for biting the hand that feeds. Coming forward might've very well been a PR tactic, too.
Plenty of famous married couples have been accused of having a business arrangement. Throughout the six years Katie Holmes and Tom Cruise's were married, gossip rags were obsessed with the theory that his role in the Church of Scientology meant their relationship was arranged. Kristen Stewart dated Robert Pattinson for three years while both were stars of the Twilight trilogy—a move some viewed as intentional promo for the teen vampire romance series. And, of course, there's Beyoncé and Jay-Z, who've been married for a decade (the wedding, like Cardi and Offset's, was held in secret).
When the pair wed in 2008, they kept silent about their partnership, save for an interview in which Beyoncé told Essence, "My word is my word. What Jay and I have is real. It's not about interviews or getting the right photo op. It's real." After years of rumors about Jay's infidelity, they became less private—Beyoncé appeared to share her side of the story on Lemonade in 2016 and Jay-Z on his album 4:44 in 2017. They also used speculation about their marriage as material for two joint tours (On the Run and On the Run II), making the business aspect of their romance all the more transparent, along with the idea of marriage itself as a business pact.
Is it even possible for a celebrity coupling to be devoid of business? I return to the example of Taylor Swift because it used to be impossible to hold a conversation about famous people dating without mentioning her. She's been mum about her romance with actor Joe Alwyn, who she has allegedly dated since October 2016. Does their secrecy lead us to believe that things are more real between them, as opposed to her other well-documented boyfriends? Or is it more likely that she's learned to keep love close and quiet if she wants the relationship to last?
When two powerful celebrity forces meet, it's hard to believe it as anything other than a transaction. In the case of Cardi B and Offset, the pair had a child together, her first. They got married, and did so without the public knowing. Perhaps theirs is a situation that can't be described as a setup, but a romantic business partnership gone bad.