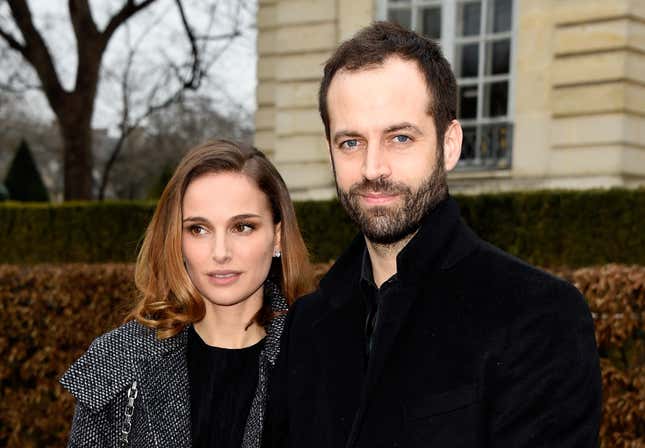 Ariana Grande and Dalton Gomez; Sofia Vergara and Joe Manganiello; Tina Knowles and Richard Lawson; Sophia Bush and Grant Hughes; Justin Trudeau and Sophie Grégoire Trudeau; Bill de Blasio and Chirlane McCray; Bella Hadid and Marc Kalman; SpongeBob and His Girls' Girl of a Wife; Ricky Martin and Jwan Yosef; Billy Porter and Adam Smith; Reese Witherspoon and Jim Toth; Kyle Richards and Mauricio Umansky; Jeremy Allen White and Addison Timlin; Kevin Costner and Christine Baumgartner; and now Natalie Portman and Benjamin Millepied have all split up in the last six months. If you were in a relationship when you started reading that list of people, I'd go check Instagram to make sure your partner hasn't released a statement in the last five minutes saying you aren't.

Megan Rapinoe Uses Media Time to Discuss "Cruel" SCOTUS Ruling
Among the many things that have piqued my interest around these big splits—besides dog custody and pre-divorce rumors of cheating with a Gen Z climate activist—is the sheer breadth of divorce announcement styles. There's the cordial route that Witherspoon and Toth and the Trudeaus went: the joint Instagram text post. de Blasio and McCray secured a New York Times profile with a sentimental photo spread. Dean McDermott shared on Instagram that he and Tori Spelling were separating—only to delete the post and have neither of them mention it since. Last week, Sophia Bush and Grant Hughes's PR team gave People the exclusive that they were splitting after only one year of marriage. Those two might think that they can slip a divorce announcement in at 5:32 p.m. on a summer Friday, and Sophia might think she can wipe her Instagram of all traces of her ex without me prying for more but they are wrong. I feel unjustifiably entitled to know more about the dissolution of a marriage that had a full Vogue spread and detailed their wedding's historical walking tour of the Tulsa Race Massacre. (Yes, you read that right.)

Relationship experts and news outlets have speculated that these celebrity splits are due to a number of factors: the stress of the strikes, the aftermath of the pandemic, the warm weather, and of course, seeing other famous people do it first. Divorce begets divorce. "Gee, she sure looks happy doesn't she?" I imagine some yet-to-be-announced divorcée is thinking while looking at Kyle Richards pounce around town with her good close friend Morgan Wade. Maybe that is even, you, dear reader! And if it is, you have my permission to leave!
And while I appreciate the good guesses regarding this pattern of separation, there's really only one thing they all have in common: People aren't staying in relationships that no longer work for them, and I celebrate that! We all should! Divorce is a generative, gorgeous legal process that causes women to get bangs and men to post questionable selfies.
All these celebrities carpooling to splitsville en masse does feel a little bit destabilizing, I'll give you that. Tabloid headline after headline accompanied by the iconic shredded graphic separating a once beloved couple has made me say "them too??" aloud multiple times this summer. And, yes! Them too!
However, I implore you to feel the rush of freedom emanating from all of these wealthy and/or famous people, and not get too worried about what it says about the state of marriage. The state of marriage remains both sexist and dull, a horrific combination. While on a personal level, I'm sure these divorces might be sad, all together they're preparing us for a Sex-a-thon September or Fuck Fest Fall or whatever cloying seasonal nickname the celebrity discourse machine comes up with to describe all these famous people embarking on their rebound journeys.
Relationships work until they don't and people have stayed in or left them for reasons both simple and complex. Looking at all of these divorces is just a reminder that there's no amount of financial security or perfected aesthetic that saves you from heartbreak—though maybe those things can expedite it. Good for all of these divorces. I celebrate them! Well, most of them. I'm still pretty angry at SpongeBob leaving his wife for Ariana Grande. That one feels more complicated.