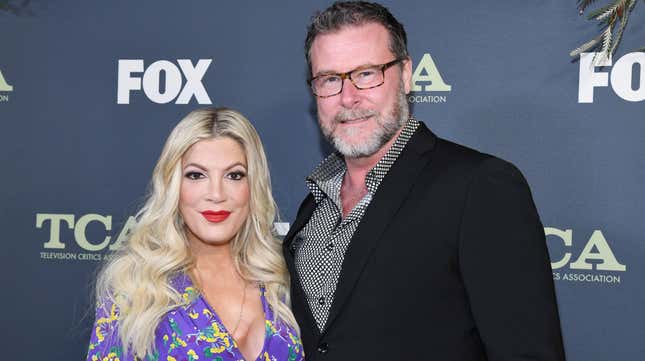 If you've been keeping up with Tori Spelling the last few months, you're aware that her family has been in the middle of a battle royale against black mold in their Los Angeles rental home. Obviously, that is a serious problem and one that seems to be causing a lot of health issues for the entire family.
Is Emmy Rossum Old Enough To Play Tom Holland's Mom?
Spelling even posted on Instagram stories last month asking her followers for recommendations on where to get a specific brain scan for her family. "Anyone know a MRI place in the San Fernando Valley/or Los Angeles area that does 3TMRI brain scans (not 1.5) as well as neuroquant?" she wrote. "We need to get this for our family bc of the mold poisoning 🙏." This certainly seems like a case for Google or the nurse helpline and not a crowdsourced social media callout.
Nevertheless, that is just some context as to what's been going on since May in the Spelling household. And then early Saturday morning, Spelling's husband of 17 years, Dean McDermott, posted that the two were divorcing:
"It's with great sadness and a very very heavy heart that after 18 years together and 5 amazing children, that @torispelling and I have decided to go our separate ways, and start a new journey of our own. We will continue to work together as loving parents and guide and love our children through this difficult time," he continued. "We ask that you all respect our privacy as we take this time to surround our family with love and work our way through this. Thank you all for your support and kindness. 🙏"
They're sad. They've made the difficult decision. They love their kids. They ask for privacy. McDermott tagged Spelling in the post, even though she made no announcement of her own. Boilerplate celebrity divorce announcement, no? Except that within 12 hours of posting it, McDermott deleted it. Since then, he and Spelling have been radio silent on their social media pages. No Father's Day posts, no correction, no nothing! And this is a family where silence is a statement in and of itself (they have the posting disease).
What happened?! With the direct line of communication that is Spelling's incessant Instagram stories cut off, I'm left with questions! Did the black mold temporarily make McDermott think they were divorcing!? Did Spelling forget that they were divorcing!? Tabloids have been publishing conflicting statements from "sources close to the couple" and both parties have been conveniently papped in conspicuous settings.
Over the weekend, a source informed Us Weekly, "Tori and Dean are not getting a divorce. They've had their ups and downs like any couple, but [they] have continued working on their marriage through couple's counseling. They love each other and are not going to split." Okay??
On Tuesday, Spelling was photographed wearing a shirt reading "Boys Lie," the same brand Ariana Madix wore to the Vanderpump reunion taping in March after news broke about her split. Mark my words: There are no coincidences in the world of staged paparazzi photos. If Spelling was surprised by McDermott's announcement, she wasn't so sidelined that she couldn't set up a brand partnership within two days to profit off of it.
Splash News, the same photo agency that snapped Spelling, also secured pics of McDermott moving items, including two hockey sticks, into a storage unit. Nothing says "very very heavy heart" like a Canadian having to relocate his two hockey sticks. Excellent prop work to all involved.
Should they actually be divorcing, then I'm glad they're escaping the toxic mold. If it's all a promo for a new reality show or something, I hope it gets them enough money to get out of their toxic mold house. Whatever the outcome of this might be, it's now a meta-performance that I am invested in.
---
In more separation news, Armie Hammer and Elizabeth Chambers have finally settled their divorce. [Page Six]
Chambers isn't the only one moving on from Hammer. Luca Guadagnino's trailer for Challengers released yesterday. Looks hot. [MGM]
Praying for The Weeknd's swift recovery from Posters Disease. [UpRoxx]
The stepson of a billionaire aboard the missing Titan submersible seems to be doing just fine, posting about attending a Blink 182 concert. [TMZ]
The Flash seems to have barely flickered over opening weekend. [Variety]