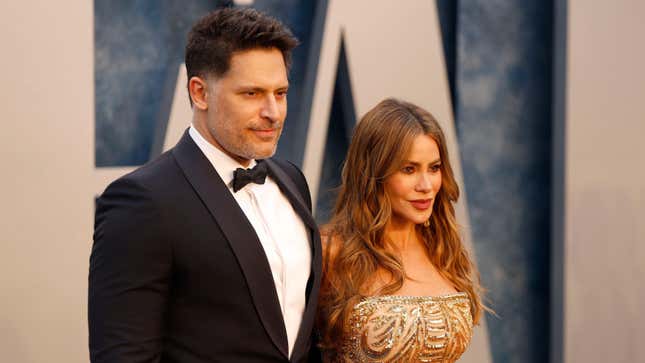 Actors/professional hotties Sofia Vergara and Joe Manganiello announced earlier this month that they're divorcing, beginning the long slog of disentangling two lives. And, as it turns out, there's one crucial thing their prenuptial agreement didn't account for: The pair have a dog named Bubbles, and they need to figure out which dog parent gets custody of the 10-year-old pooch.
The pair, who had been together seven years, "still have a few issues to figure out, like custody of their dog, Bubbles," a source told Us Weekly. "But Sofia hopes they can move forward in a calm, fair fashion."
I trust that they will make every attempt to be adults about this, but as a dog owner, I can confidently say that when it comes to dogs, even the most sane and rational people can very quickly become...not sane and rational people. And crucially, it seems like the dog only really likes one person. In May 2021, Vergara appeared on The Tonight Show Starring Jimmy Fallon and she did not hold back on her strained relationship with Bubbles: "She hates me," Vergara said.
Apparently Bubbles was originally brought into their home to be Vergara's dog, but she chose a different favorite. "She was supposed to be for me. She was supposed to be my dog. She arrived to the house, and I don't know, she thought she was for Joe, and that's all she wants to do," Vergara said. "She's after him all day long, harassing him. It's an obsession this dog has with him. It's horrific."
Even family dogs can make their loyalties known!
Still, it's obvious how much they both love the little pooch. Earlier this month, they posted about the Bubbles' 10th birthday. Manganiello posted a video of him feeding Bubbles a Starbucks Pup Cup or puppuccino (an espresso cup of whip cream) while 50 Cent's "In Da Club" played. A perfect little treat for an aging pupper.
Meanwhile, Vergara's post hilariously highlighted her strained relationship with Bubbles. She wrote, "Feliz 10th cumpleaños my sweet,vicious Bubbles! No matter how many times u bite me I will always love u❤️❤️" with the sweetest little birthday cake set up.
Despite the evidence of both sides loving Bubbles, I am ready to render a verdict, by taking into account what I presume to be Bubbles' wishes. After all, dogs do have a favorite owner, even if you're in denial about it. (I have dogs, and they both slightly prefer me to my partner, even if I have pill duty and trim their nails!) For this reason and this reason alone: I think the dog should go to Manganiello.