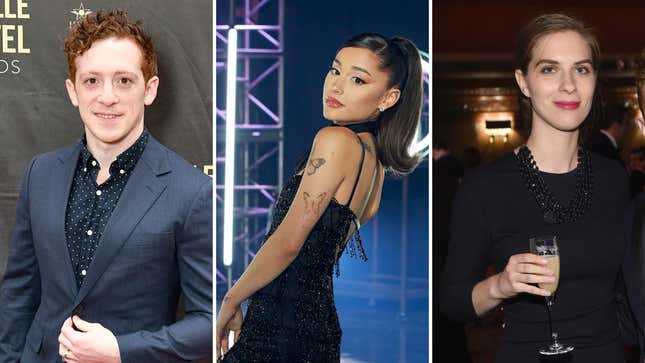 Though sources around Ariana Grande and Wicked costar Ethan Slater's budding romance seem to be working overtime to keep their timeline clean of any infidelity claims, Slater's estranged wife Lilly Jay appears to be out for blood. Less than 24 hours after TMZ reported that Slater (aka SpongeBob) had filed for divorce, Jay spoke out for the first time, implying that the sudden dissolution of their long-running marriage was not a clean break.
"[Ariana's] the story really. Not a girl's girl," Jay told Page Six on Thursday. "My family is just collateral damage."

Putting aside for a moment that "not a girl's girl" is, really, a cardinal sin—the worst diss one can receive from another woman!—the musician went on to clarify that her biggest priority at the moment is being "a good mom" to the baby she and Slater share.

"The story is her and Dalton," Jay added, referring to to Grande's recent separation from her husband and real estate agent Dalton Gomez. But additional unnamed sources told Page Six that Jay has been "calling every news outlet to get this story out." "It's horrible," they said. "They were high school sweethearts. They have a baby! She's a wreck."

There's conflicting information left and right in this dispatch, as yet another source maintained that Jay is "rightfully upset because her marriage fell apart, but Ariana and Ethan didn't do anything wrong." According to this "insider," Jay and Slater had been separated for two months before the actor struck up a cozy relationship with Grande. But, of course, that timeline is awfully convenient for both Slater's and Grande's public image, painting Jay as the scorned woman in the situation.
The internet has been quick to brand Grande as a serial homewrecker, with one user stitching together a now-viral video of all of the alleged instances in which Grande has either cheated or began a relationship with a man who was dating someone else at the time. But, as we know, it takes two to tango, and there's a long sordid history of Hollywood women getting plastered with a scarlet letter while their male partners in crime get away relatively unscathed. That's not to excuse Grande's behavior, but time will tell whether there's any public forgiveness to be had.