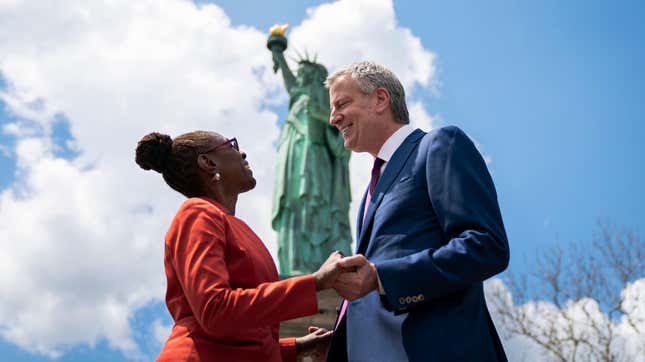 If you woke up in New York City this morning and the air felt heavier than usual, that wasn't just the wildfire smoke, firework debris, or general summer humidity. There was also an emotional heaviness: The city's former first couple, Mayor Bill de Blasio and Chirlane McCray, are separating.
But separating for these two doesn't mean actually going separate ways, apparently. After 29 years of marriage, "They are not planning to divorce, they said, but will date other people. They will continue to share the Park Slope townhouse," according to a New York Times profile of the pair and their decision. Like many a Brooklyn couple before them, it seems de Blasio and McCray are just loosening the ties that bind, seeing what else is out there while avoiding confronting the city's hellish real estate market.
The reasons behind the dissolution of their marriage don't appear to be particularly juicy: His two terms as the city's mayor and his comically underwhelming presidential run contributed to it. "That kind of took away a little bit of our soul," de Blasio said. Over the summer, after asking his wife, "Why aren't you lovey-dovey anymore?" the two realized they wanted more, and decided that very evening to separate. (That last part feels particularly grim: a single conversation, years overdue, addressing the state of their partnership. But better late than never, I suppose.)
Before marrying de Blasio, McCray openly identified as a lesbian, which prompted a lot of dumbass takes when de Blasio was running for mayor from folks with little understanding of the spectrum of sexuality. When asked a few years ago if she was still attracted to women, she said, "I'm married, I'm monogamous, but I'm not dead and Bill isn't either."
"One of the things we're saying to the world is we don't need to possess each other," de Blasio told the Times. He then played Brooklyn singer KAMAUU's song "Mango," highlighting the lyric, "I don't want nothing but you/Getting what you need/ Even if it ain't from me." On message via a local artist? A politician through and through.
A joint Times profile and photoshoot is certainly a very 2023 version of "conscious uncoupling." Along with specifying their desire to date ("Ms. McCray asked dryly if their phone numbers could be included in the newspaper" and de Blasio asked, "Can I put a picture from the gym in there?"), the former mayor's new hair color is as much of an indicator. The accompanying photos show de Blasio with a chestnut hued hairline, looking like if John Kasich had read The Ethical Slut.
As I would to all of my friends exploring the contours of varying relationship structures, I wish these two the best. And to paraphrase Biggie, may they spread love, the ethically non-monogamous Brooklyn way.