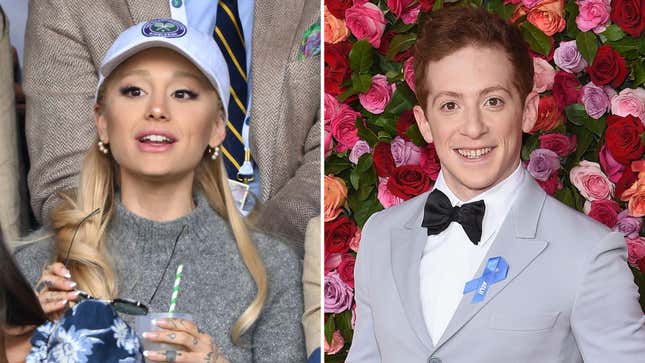 Here I am, 33, and still ensnared by the romantic affairs of theater nerds. My curse, my shame. Nevertheless...After enjoying a brief reprieve from the never-ending tabloid cycle, Ariana Grande and Fuck Boy Squarepants, Ethan Slater, are back in the spotlight. An insider told the Daily Mail that the two lovers were incredibly "sloppy on set" of Wicked and hardly bothered to hide their affair.
'They were seen being all over each other while he was still supposedly happily married to Lilly," the source said. 'They were seen making out at a pub in Hampstead, and they were all over each other at Michelle Yeoh's Oscar party [in March]."
What's more is that Grande and SpongeBob had gone on multiple dates with their respective partners, Dalton Gomez and Lilly Jay, at the time. "Ariana and Dalton went on double dates with Ethan and Lilly several times—and they were seen out by cast members," the source said. "Lilly and Ethan also met Ariana's family together, including her mom and her brother." As Jay told Page Six, Grande's behavior simply disqualifies her from being a "girl's girl." I've seen the evidence and have to agree.
The photos from Yeoh's Oscar party that ended up on social media are pretty tame in my opinion. The Wicked cast was photographed sitting around a table in the last photo in the carousel. Below is another innocuous one from the two on set.
Though, my understanding and experience with taboo psychosexual musical theater production flings is that the thrill comes from the secret under-table knee brush or glance across the stage. I just know Ariana has perfected a coquettish giggle when Ethan delivers his lines as Boq. I just know.
It had been a minute (read: one calendar week) since we'd gotten much goss from this affair. After filing for divorce from his wife on July 26, Slater and Ariana were advised that "it's too soon to go public" and "to take things slower," an insider told US Weekly. I imagine that will be legitimately challenging for Ms. "Thank U Next" to do, but I wish her all the best!
---