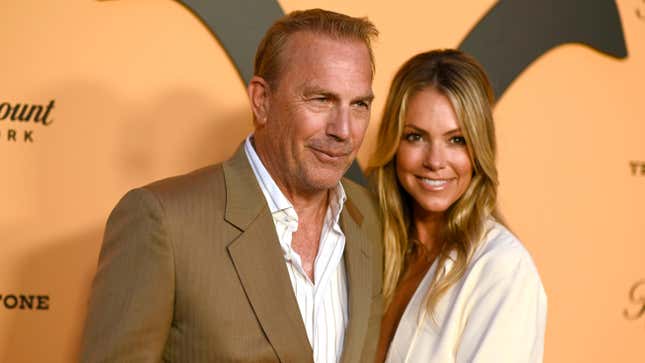 Remember that game sardines you probably played as a child, where you'd hide for as long as possible, hoping to be the last one found so you'd win? It sort of feels like that may be what's happening with Kevin Costner's ex-wife, Christine Baumgartner.
Megan Rapinoe Uses Media Time to Discuss "Cruel" SCOTUS Ruling
On May 1, Christine surprised Kev, her husband of 18 years, with divorce papers. According to TMZ, the Yellowstone star had a strong prenup in place that said Baumgartner would have 30 days to vacate their home after a potential divorce. Well, it's been 30 days and...she hasn't! She's staying put! Squatters' rights!
The docs that TMZ got their hands on allege that Costner is seeking the court's help to remove Baumgartner and that she's only staying put to leverage "various financial demands." Supposedly, Costner has already given her $1.2 million as stated he would in the prenup, and is offering to pay up to $30,000 a month in child support for their three children.
The reason such an ironclad prenup probably exists between the two is that Costner's first marriage to Cindy Silva, which ended because of his infidelity, cost him $80 million. Yellowstone was the most watched show of the last year and has boosted the already-wealthy dude to a net worth of about $250 million.
Look, I'm not taking any sides here, but... If I was married to someone for nearly two decades worth that much money, I'd also probably settle into a comfy little corner in one of their various estates to try and leverage "various financial demands" beyond $1 million.
I also can't help but chuckle at a queen who surprise divorces her husband and then refuses to leave the house that he owns. If chaos is a strategy, she is wielding it.