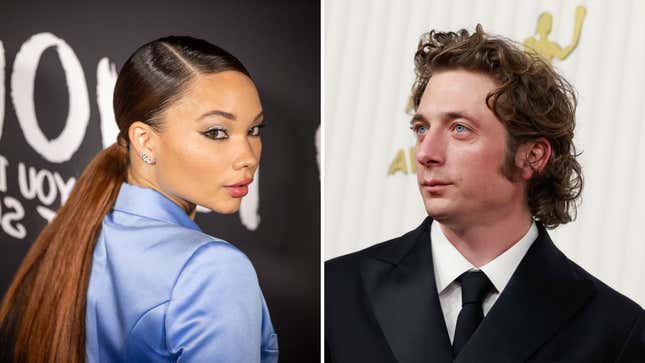 Between Justin Trudeau's divorce, Sophia Vergara and Joe Manganiello's harrowing custody battle for their dog Bubbles, and the Ariana Grande-SpongeBob affair, the summer of 2023 has been one of celebrity separation. But fear not, friends, at least one newly single faves appears to be doing just fine: Jeremy Allen White was recently photographed making out with model and actress Ashley Moore.
Jeremy Allen White's Hands Are Our Crush of the Week
That's right—when he hasn't been running, striking, amicably co-parenting with his ex-wife Addison Timlin, or just generally looking really hot, he's been making friends. The kind of friends that kiss on a sidewalk in broad daylight in the front of the paparazzi. Good for him, but really, great for Moore.
Is it serious? Who's to say? Do the photos look a little posed? Absolutely. However, neither their representatives nor curiously-timed "sources" speculating on whatever this is have stepped in for comment, so that's something! And, unlike the Selena Gomez rumors—wherein she and White were reportedly "in touch" post-Vanity Fair Hollywood issue—no blind item about these two has hit crowdsourced gossip hub Deux Moi yet, which again, gives this a tad bit more credibility in my eyes. As of now, all those starved for the scintillating details of celebrities' private lives have are these photos. What's happening between these two—apart from some good old fashioned tongue tangling—is anyone's best guess.

In the meantime, here's what we know about Ms. Moore: She came to (moderate) fame via an E! reality show, Model Squad, got cast as "lover" in a Drake music video, and in 2020 was linked to Shia LaBeouf (yikes).
Well, alright then! Proceed, chef.

---