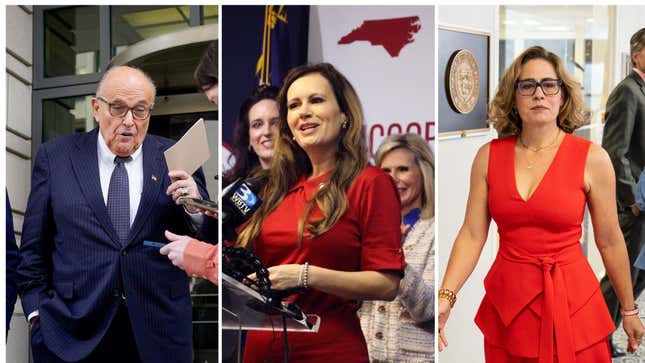 Folks, if you're reading this, it means we have (barely) made it through another seven days in this infuriating country. As always, I am here to provide you the Cliffs Notes of what you may have missed from this week's slide into fascism.
The Filibuster is Standing in the Way of Abortion Access
Here is a non-exhaustive list of Sue's Fuck Yous. I'm sure I missed a few bad people doing bad things, so please address them in the comments!
---
Fuck you to Louisiana Republican lawmakers for rejecting bills that would have clarified the state's abortion ban to exclude miscarriages and ectopic pregnancies.

Fuck you to Texas Republicans for banning gender-affirming care for trans kids.
Fuck you to Nebraska Republicans for sneakily folding an abortion ban into a bill banning gender-affirming care for minors—because they couldn't pass an abortion ban otherwise.
Fuck you to Florida Gov. Ron DeSantis (R) for banning public colleges from using federal or state funds on diversity, equity, and inclusion programs and limits how race can be discussed. He said at a news conference that DEI stands for "discrimination, exclusion and indoctrination."
Fuck you to Rudy Giuliani for responding to a former employee's horrific allegations of sexual abuse by essentially slut-shaming her.
Fuck you to Dallas police for allegedly knowing that the Texas man who shot and killed his girlfriend for getting an abortion had strangled her weeks before. Strangulation is a key predictor of homicide in domestic violence situations.
Fuck you to Sen. Kyrsten Sinema (I-Ariz.) for allegedly using campaign funds to pay for trips to run marathons all over the country and generally live a life of luxury.
And, finally, fuck you to North Carolina State Rep. Tricia Cotham (R)—the formerly pro-choice party switcher who betrayed her constituents on abortion—for voting to override the Democratic governor's veto of a 12-week abortion ban and clinic shutdown law. The override went through by exactly 60 percent in each chamber, meaning Cotham personally could have blocked it.
---
To (almost) everyone else, have a phenomenal weekend.