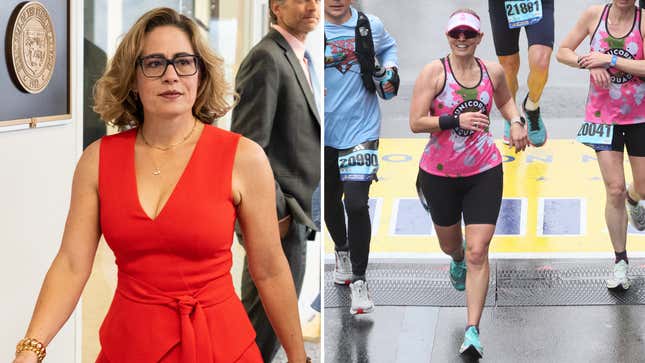 Sen. Kyrsten Sinema (I-Ariz.)—the curtsy-voting former Democrat who has a net favorability rating of negative 23 points—is reportedly using her campaign funds to pay for trips to run marathons.
The Filibuster is Standing in the Way of Abortion Access
According to the Daily Beast, when Sinema ran the prestigious Boston Marathon in April 2022, she appears to have also held a fundraiser that allowed her to write off travel expenses. Sinema's Getting Stuff Done PAC (lol) spent more than $1,500 on "event supplies" and "meeting meals" at Boston-area businesses during race week, and Federal Election Commission records show several of Massachusetts-based donors gave Sinema more than $16,000 in April, many of them giving the max amount. Sinema's campaign also paid $8,470 in lodging expenses at a Ritz-Carlton hotel, and in a post-race photo she tweeted, the luxe hotel's logo is visible on a gift bag.
And it's not even the first time she's done this! The story continues: "On at least six total occasions since 2019, Sinema has participated in a race while engaging in fundraising activity—and covering expenses—in the area of the competition, according to a review of public campaign finance and competition records." The outlet linked campaign spending to races in California, Colorado, Utah, and Washington. A Sinema spokesperson didn't respond to the Beast's request for comment.
FEC rules say candidates can't use campaign money to "fulfill any commitment, obligation, or expense of a person that would exist irrespective" of their running for or holding office. Sinema is doing campaign activity, but she appears to be planning it around the races. "Tacking some personal activities on to a fundraising trip is generally going to be fine," said Brendan Fischer, deputy executive director of the watchdog group Documented. "But this appears to be the inverse—tacking fundraisers on to personal trips to justify the use of campaign funds to cover the costs."
Sinema has also spent campaign money on jets, limos, and fine wine—more than $20,000 just on wine in 2021 and 2022, per the New York Post. Fischer told the Beast, "It is one thing to ask donors for money to support your campaign and get your message out to voters, it is another to ask them to bankroll your personal life."
This is the kind of stuff regular people get audited for! "Oh we're talking business at this expensive dinner, I'll write it off on my taxes."
As someone who's run multiple marathons, I wouldn't take kindly to my own do-nothing senator devoting so much time, energy, and resources over several months to train for a 26-mile race. An internal staffing guide for Sinema said of marathons and triathlons that "these activities are very important to her and should be protected" and explained that staff should "book recovery massages and physical therapy sessions for her during Senate workdays."
Sinema has far too many habits for someone who should be busy serving her 7 million constituents. She's previously done a summer internship at a winery and appears to be quite involved in selling her clothes—including athletic gear—on Facebook Marketplace.
Sinema hasn't said whether she'll run next year, but current polls show that she would lose in just about any three-way race. Please just go be a fitness influencer and leave us alone, Kyrsten.