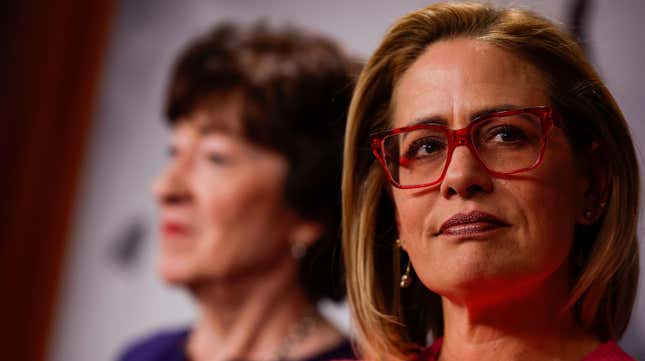 Following reports this week that Sen. Kyrsten Sinema (I-Ariz.) has been using campaign funds to pay for costs related to her marathon running, an Arizona group has filed a complaint with the Federal Election Commission (FEC) calling on regulators to open a formal investigation into spending by the senator. Apparently, per the complaint, using campaign funds for her marathon participation was the tip of the iceberg: Sinema is also facing scrutiny over more than $180,000 in campaign expenditures as far back as 2019 that went toward luxury hotels and resorts, jets, limos, Michelin-starred restaurants, international travel, winery visits, and more.

The Filibuster is Standing in the Way of Abortion Access
The FEC complaint against Sinema filed on Thursday by the liberal political action committee Change for Arizona 2024 alleges that Sinema has been using both campaign funds and public funds to bankroll her "lifestyle of luxury," pointing specifically to trips to resorts in Paris and, of course, her participation in marathons. The complaint says that this campaign spending is especially suspicious because it took place while Sinema wasn't actively campaigning: The senator still hasn't announced whether she's running for reelection when her term expires next year.
The complaint comes after reports this week that Sinema's campaign paid for more than $9,000 in expenses when the senator participated in the Boston Marathon last April. Her comically named Getting Stuff Done PAC spent nearly $2,000 on "event supplies" and "meeting meals" in the Boston area during the week of the race, per The Daily Beast's reporting. Her campaign also paid $8,470 for a stay at the local Ritz-Carlton. The same Daily Beast report claims Sinema has repeatedly scheduled fundraising events in states where she was participating in races so that she could use campaign funds to cover the cost of her otherwise-extracurricular travel.
The Thursday complaint against Sinema builds on that argument, pointing out that she has participated in at least 17 marathons and other races since being sworn in to the Senate, allegedly bankrolling some of them by scheduling incidental campaign events or fundraisers in the area to then pay for the entire trip with campaign funds. FEC rules bar candidates from using campaign funds to "fulfill any commitment, obligation, or expense...that would exist irrespective" of their campaigning for or holding office.
A spokesperson for Sinema dismissed the FEC complaint in a statement shared with the local outlet Arizona Family. "It's not surprising that desperate political attacks from dark money Super PACs are based on lies. There's no standing here, and Kyrsten remains laser focused on delivering lasting solutions to the challenges we face—including addressing our border crisis and ensuring Arizonans are protected from a national default," the spokesperson told the outlet.
An independent lawyer and government ethics expert not working with Change for Arizona 2024 told Arizona Family he was "shocked" by the glaring violations laid out in the FEC complaint. "I've seen a lot of political corruption in my life," the attorney, Tom Ryan, said. "You don't get to mislead donors. You don't get to take money that's intended for a public use and turn it into a private benefit, and she has clearly done that in spades." Ryan told the outlet that if an investigation shows there's merit to the complaint against Sinema, she could be ordered to pay back improperly spent funds. Misuse of public funds has also led to criminal prosecution in some cases, Ryan said.

While Sinema hasn't yet confirmed whether she's running for reelection, she'd certainly face an uphill battle facing her Democratic challenger, Rep. Ruben Gallego, who's characterized Sinema as an ally to anti-abortion activists and the right. Last month, Jezebel reported Sinema has an astoundingly low net favorability rating of -23 in her state. She's being outraised by her Gallego while begging Republican donors and the oil lobby for campaign cash. I guess that's the price of enabling Republican priorities with your unending support of the filibuster.