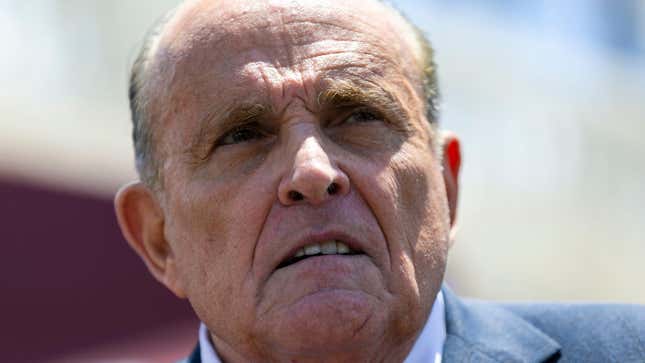 Rudy Giuliani, once known as "America's Mayor," has responded to a $10 million lawsuit filed on Monday by his former aide accusing him of rape and long-running sexual harassment by, essentially, slut-shaming the woman who accused him, Noelle Dunphy.

"Mayor Rudy Giuliani unequivocally denies the allegations raised by Ms. Dunphy and every news outlet covering this story must include the fact that an ex-partner accused her of being, 'an escort that fleeces wealthy men,'" Ted Goodman, Giuliani's advisor, has said in a statement to Rolling Stone. Goodman, speaking for Giuliani, continues to cite the word of Dunphy's alleged ex: "He claimed she's taken part in 'prior schemes to defraud high net-worth men' … He also claimed she 'bragged about extorting $5 million' from the son of a successful Wall Street investor, with a fake rape claim in 2011."
"Mayor Giuliani's lifetime of public service speaks for itself and he will pursue all available remedies and counterclaims," Goodman concluded. That "lifetime of public service," of course, has more recently consisted of helping former President Donald Trump try to steal an election and getting caught putting his hand down his pants by Sacha Baron Cohen.
In a statement shared with Jezebel on Wednesday, Justin T. Kelton of Abrams Fensterman, an attorney for Dunphy, said, "It is sad to see that Mr. Giuliani has chosen to revictimize Ms. Dunphy in the media. This case is about the clear and detailed allegations in the complaint. Understandably, Mr. Giuliani doesn't want to address them head-on." Kelton then compared Giuliani's comments on Dunphy to former President Trump's treatment of E. Jean Carroll, who accused Trump of rape: "[Giuliani] is resorting to the tired trope of trying to blame the victim. That strategy did not work in the E. Jean Carroll case, and it won't work here."
It seems worth emphasizing that per Dunphy's lawsuit, Giuliani wasn't just her boss, but had also offered to provide pro-bono representation to support her in an ongoing matter with "an abusive ex-partner" as part of her job offer.
Dunphy alleges Giuliani repeatedly claimed he had to hire her under the table and defer the $2 million in wages he'd offered her (instead, ultimately paying her just $12,000 in two years) because of his ongoing divorce. But to entice her to accept the job as his assistant, the suit states, "Giuliani also offered to provide pro bono legal representation to Ms. Dunphy in connection with an ongoing dispute arising from an abusive ex-partner."
This offer helped convince Dunphy to accept the position as Giuliani's assistant, her suit says, because she viewed "free legal representation as being worth the wait." But ultimately, her suit concludes, "Giuliani's seemingly generous offers were a sham motivated by his secret desire to pursue a sexual relationship with Ms. Dunphy—in total disregard for the restraints that should have protected her as his employee and client."
It's not clear whether the ex-partner whose claims Goodman invokes to drag Dunphy's name through the mud is the same "abusive ex-partner" Dunphy mentions in her suit, who allegedly had her caught in a long-term "ongoing dispute." That Giuliani seems to have had intimate knowledge of Dunphy's relationship with an abusive ex, only to now use the disparaging claims of an unnamed "ex-partner" against her, is pretty striking.
In addition to Giuliani allegedly denying Dunphy wages and offering her free legal representation to pursue a sexual relationship with her, Dunphy's suit claims he repeatedly forced her to have sexual contact with him at work so he could "feel like Bill Clinton" and demanded that she work for him naked, in a bikini, or wearing short shorts he'd bought her with the American flag on them.
"Giuliani began abusing Ms. Dunphy almost immediately after she started working for the Defendants," the lawsuit states. "He made clear that satisfying his sexual demands—which came virtually anytime, anywhere—was an absolute requirement of her employment and of his legal representation. Giuliani began requiring Ms. Dunphy to work at his home and out of hotel rooms, so that she would be at his beck and call."
A representative for Giuliani has told media outlets that he "vehemently and completely denies the allegations in the complaint and plans to thoroughly defend against these allegations" and characterized the lawsuit as "pure harassment and an attempt at extortion." The suit against Giuliani comes roughly two years after his law license was suspended when a New York court ruled he made "demonstrably false and misleading statements" while representing former President Trump.