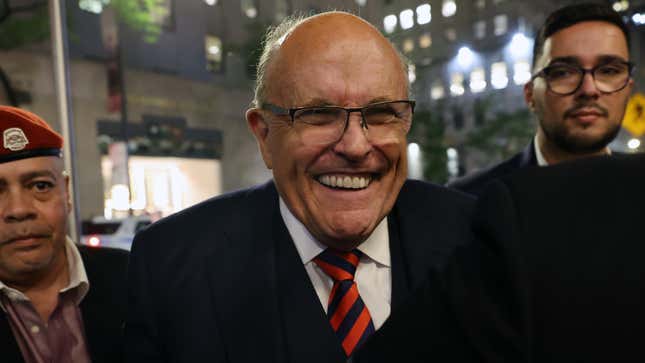 A woman named Noelle Dunphy filed a shocking and graphic 70-page legal complaint against her former boss, former New York Mayor Rudy Giuliani, accusing him of rape, sexual harassment, abuse of power, wage theft, and other misconduct while he was serving as former President Donald Trump's personal lawyer.
Dunphy claims Guiliani hired her in 2019 as director of business development at a salary of $1 million per year plus expenses. Then, she says, he only paid her about $12,000 over the next two years, forced her to perform oral sex and have intercourse with him at work so he could "feel like Bill Clinton" and demanded she either be naked, wear a bikini, or wear short shorts he'd bought her with the American flag on them at work—even while he was on calls with the president. She also claims he regularly spouted off "confused and hostile alcohol-laced tirades" that were homophobic and racist in nature. She says she recorded some of their interactions as proof.
"Giuliani began abusing Ms. Dunphy almost immediately after she started working for the Defendants," the lawsuit states. "He made clear that satisfying his sexual demands—which came virtually anytime, anywhere—was an absolute requirement of her employment and of his legal representation. Giuliani began requiring Ms. Dunphy to work at his home and out of hotel rooms, so that she would be at his beck and call. He drank morning, noon, and night, and was frequently intoxicated, and therefore his behavior was always unpredictable."
Giuliani is representing himself against the allegations. "He vehemently denies the allegations and plans to aggressively defend against these accusations," a Giuliani representative said Monday. "This is not really a lawsuit, this is harassment and extortion."
The recordings Dunphy made and the 23,000 emails she preserved may present a problem for him, though. Her allegations are so plentiful, so stunning, and so heavily backed up with receipts that they are impossible to adequately summarize here. One bizarre tidbit from the Daily Beast:
In March 2019, Giuliani allegedly told Dunphy "he fantasized about Wendy Rhoades in the popular television show Billions, stating 'she wears all that black shit, she's got a whip, and an electric prod,'" the suit alleges. The complaint claims that Giuliani also tried to force Dunphy to watch BDSM scenes, and allegedly began using abusive language toward Dunphy. "During sex, he called her a 'cunt,' a 'bitch,' and 'Rudy's slut,' and discussed his interest in "BDSM' with her," the complaint states.
Dunphy claims Giuliani made lots of sexual comments about public figures living and dead—including the late U.K. Prime Minister Margaret Thatcher—constantly took Viagra and would demand that Dunphy "take care of" his erect penis before finishing her work. She says Giuliani would force her to become intoxicated with him, and claims that once when he got her too drunk to consent to sexual intercourse, he remarked that he thought of her as a daughter.
Dunphy is suing Giuliani for $10 million in back pay. "Giuliani presented himself as a generous employer and a hero who would use his legal prowess to save Ms. Dunphy from a difficult situation," the lawsuit says. "But he was neither of those things."
Giuliani doesn't have the best reputation these days, to put it lightly—but these new allegations are nonetheless pretty difficult to stomach.