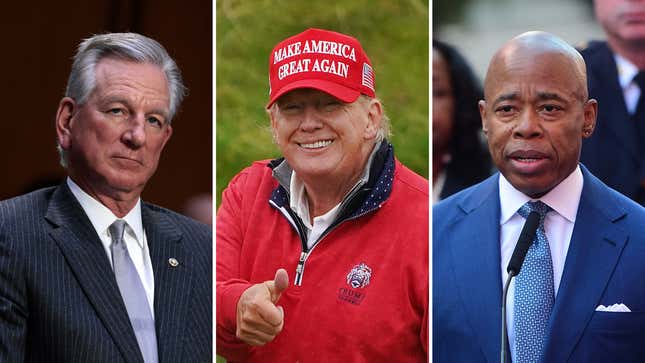 Hello good people, it has been another god-awful week in which Republicans threw people's rights in the wood chipper and some Democrats defended the norms of our broken institutions. I have sorted the firehose of political news roughly by who should eat glass the most.
Pro-Abortion Protesters in NYC Have Two Words for SCOTUS
Here is a non-exhaustive list of Sue's Fuck Yous. I'm sure I missed a few bad people doing bad things, so please address them in the comments.
---
Fuck you to North Dakota Gov. Doug Burgum (R) for signing a bill requiring public school teachers to out transgender students to their parents and allow teachers and state employee to ignore a person's preferred pronouns. It's not enough to ban gender-affirming healthcare—they need to ban social transitioning, too.
Fuck you to anti-abortion terrorists for increasingly burglarizing and bombing abortion clinics and stalking workers. Mind your fucking business.
Fuck you to Alabama State Rep. Ernie Yarbrough (R) for introducing a bill that would allow people who have abortions to be prosecuted for murder, but claiming that likely won't happen because the bill would deter people from having abortions, and there's a high burden of proof needed. He had the audacity to name House Bill 454 the "Equal Protection Act."
Fuck you to 2024 Republican presidential candidate Vivek Ramaswamy for proposing a Constitutional amendment to raise the voting age from 18 to 25, a blatant attack on younger voters who overwhelmingly vote for the other side.
Fuck you to Sen. Tommy Tuberville (R-Ala.), a fucking former football coach, for responding to a question about whether white nationalists should be allowed to serve in the military by saying, "Well, [Democrats] call them that. I call them Americans."
Fuck you to Louisiana House Republicans for passing a bill to require every public school classroom to display a poster with the motto "In God We Trust."
Fuck you to a Louisiana House committee for rejecting rape and incest exceptions to the state's abortion ban, following testimony from a priest accused of physically abusing children who claimed that women would lie about rape to get abortions. (Oh, and Republican lawmakers fully ignored the rape and incest survivors who testified.)
Fuck you to right-wing lawyers Paul Clement and Erin Murphy for arguing to the Supreme Court that an Illinois assault weapons ban should be struck down because the constitution confers a right to own AR-15s.
Fuck you to Ohio Republicans for authorizing the state to spend $20 million on a special election for the express purpose of making it harder for an abortion rights ballot measure to pass by popular vote in November.
Fuck you to criminal defendant and twice-impeached former president Donald Trump for ridiculing the writer E. Jean Carroll during a CNN town hall the day after a jury found him civilly liable for sexually abusing and defaming her. Carroll is considering suing him yet again, and she should.
Fuck you to the New York Times for lionizing two Republican women lawmakers for blocking a near-total abortion ban in South Carolina when they also voted for an oppressive six-week ban.
And, finally, fuck you to New York City Mayor Eric Adams (D) for saying that a white man murdering Jordan Neely on the subway proves the need for forced mental-health hospitalizations. The housing crisis is right there, bro.
---
To (almost) everyone else, have a good weekend.