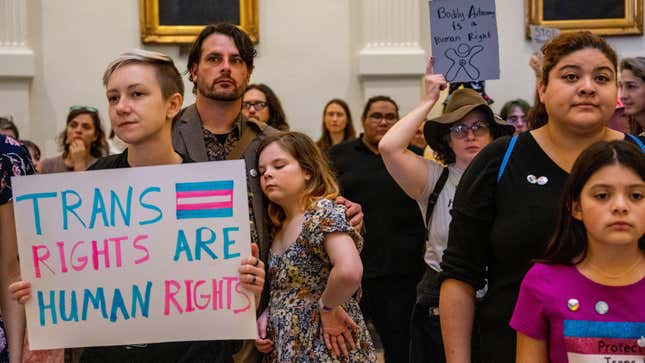 The Texas state legislature passed a cruel bill Wednesday night that bans gender-affirming health care for minors. When Gov. Greg Abbott (R) signs it into law, the Lone Star State will become the largest in a wave of states to try to deny young trans people the right to exist.

The bill, specifically, will block hormone therapy and surgery for minors (note that gender confirmation surgery is very rarely performed on children) and take away the license of anyone who provides gender-affirming care to people under 18. Abbott will almost certainly sign it, as he's made his hatred for trans people abundantly clear. (Last year, he directed the state child welfare agency to investigate parents who support their children's transitions for child abuse.)
State Sen. Bob Hall (R) said the legislature is just "protecting children" by taking away some of their needed healthcare. "We are the Legislature—our job is to protect people," Hall said, according to the Texas Tribune. "We protect children against lots of things. We don't let them smoke. We don't let them drink. We don't let them buy lottery cards. … And so we are doing the right thing."
But the Texas bill is very non-specific, thereby setting up a quandary for children and their doctors. Trans teens are at a high risk of suicide. More than 50 percent of trans and enby youth across the country "seriously considered suicide in the past year," according to data released by the Trevor Project in December. Randell, a 16-year-old trans child who wouldn't allow their full name to be published, told the Texas Tribune that being forced to de-transition because of this law "would push me past my breaking point."
But Republicans are plowing ahead with their new culture war narrative that all trans people pose a threat to kids. The morning after the Texas vote, seemingly right on cue, Sen. Ted Cruz (R-Texas) popped into a Fox News interview to help with the PR push, disingenuously demanding an "investigation" into Bud Light's "ties" to trans influencer Dylan Mulvaney—because they sent her a promotional can of beer roughly two months ago.
Meanwhile, the Texas bill has already drawn a potential legal challenge. Lambda Legal, the American Civil Liberties Union, the American Civil Liberties Union of Texas, and Transgender Law Center announced Thursday that the organizations will sue the state of Texas if the trans youth healthcare ban goes into law. Their suit—aimed at protecting the rights of trans people under 18 to access medically necessary healthcare—will be yet another massive financial undertaking for the state of Texas.
"We will be filing a lawsuit to protect transgender youth in Texas from being stripped of access to health care that keeps them healthy and alive," the organizations said in a joint statement to media on Thursday. "Coming on top of the effort last year to classify providing medically necessary and scientifically proven care to transgender youth as child abuse and threatening to tear Texas families with transgender children apart, an effort currently blocked in state court, Texas lawmakers have seen fit to double down."
While this bill will make Texas the largest state to ban gender-affirming care for children, similar laws in states like Alabama and Arkansas have already been halted in federal court, and legal challenges have been filed against others in Oklahoma, Tennessee, and Montana.
The LGBTQ-rights coalition says having access to gender-affirming care—whether that's hormones or social transitioning like being allowed to grow their hair or use a new name—just allows kids and teens to succeed and live authentically. "We will defend the rights of transgender youth in court, just as we have done in other states engaging in this anti-science and discriminatory fear-mongering," they said.