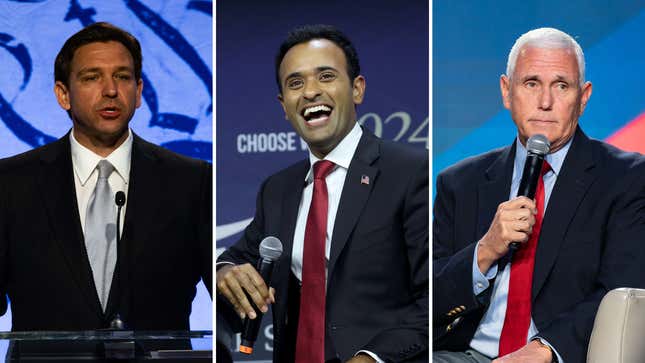 Strap in y'all, election season is really and truly upon us. On Wednesday night, Republicans vying for the 2024 presidential nomination will take the stage in Milwaukee, Wisconsin. (It's airing at 9 p.m. ET on Fox.) It is still, somehow, former President Donald Trump's race to lose, which frankly, makes it much less entertaining than the 2016 GOP primary in the sweet, naive time before he became president.
Samantha Bee's New Show Will Hopefully Teach Nikki Haley 'Something About Her Body'
Wisconsin is a swing state that President Joe Biden only won by about 20,000 votes, but we still expect the debate participants to be slinging servings of red meat to their base on everything from abortion, to LGBTQ people, to book bans, and whatever other kinds of oppression they get off on.
Here's a pre-debate primer.
Who Will Be at This Cursed GOP Debate?
Nine candidates qualified by having at least 40,000 unique donors and registering 1% in a national poll, but only eight are showing up. They are:
Donald Trump qualified but will not attend. He claims he doesn't need to since voters already know who he is and he's beating everyone so badly. (Which, unfortunately, is true.) Privately, he's said he's skipping to snub both Fox and Rupert Murdoch since the media scion appeared to have his networks and papers support DeSantis earlier in the race—before the governor started faltering.
What Will Donald Trump Be Doing Instead?
The quadruply indicted former president did a pre-taped interview with fired Fox News host Tucker Carlson which will air tonight. Then on Thursday, Trump will turn himself in at an Atlanta jail in the case of his efforts to overturn the 2020 election results in Georgia. (By the way, we learned Tuesday night that a former Mar-A-Lago employee flipped on him in the classified documents case.)
But Team Trump is on the ground in Milwaukee attacking DeSantis with debate bingo cards and pudding snack packs, a reference to the claim that the governor once ate a pudding cup with his fingers while on a private plane.
Prepare yourselves: Since Trump's interview was pre-taped, he might live post about the event on Truth Social.
What's the State of the Race Right Now?
Trump is still favored by a landslide. A new poll from Iowa, which will hold the first caucus in January, shows Trump at 42%, with DeSantis in second more than 20 points back at 19%, and Scott at 9%. DeSantis is the top second-choice candidate of likely caucus-goers, followed by Scott and Ramaswamy. Haley and Pence are kind of hanging on while everyone else is basically in the toilet.
Ramaswamy's recent polling surge has led other candidates to start attacking him, a dynamic we might see on the debate stage. A memo from DeSantis' super PAC obtained by the New York Times advised him to take shots at Ramaswamy, offering the nicknames "Fake Vivek" or "Vivek the Fake." (His first name is pronounced "Viv-ache.") The memo also suggested DeSantis defend Trump from attacks by Christie, and sure, I guess you can't piss off the MAGA base if you want to win, but this could just end up with Trump walking away with the nomination.
They're Going to Talk About Abortion, Aren't They?
Oh yes. And the "fun" backdrop for this topic is that abortion has been totally banned in Wisconsin since the fall of Roe—though hopefully not for much longer after a recent election flipped control of the state Supreme Court. Meanwhile, abortion keeps winning elections, even in red states, and these idiots are going to talk about how they think we need more abortion bans, not fewer.
Pence said earlier this month that he planned to call out both Trump and DeSantis for not supporting a national abortion ban. "My former running mate, the governor of Florida and others are suggesting that the Supreme Court returned the question of abortion to the states," Pence said at the Iowa State Fair. "I truly do believe it's vitally important that we seize the opportunity at the national level to advance protections for the right to life, and I'll do so as president," he added. "This is a really big issue. It will be on the stage in Milwaukee."
Then on Tuesday, Susan B. Anthony Pro-Life America president Marjorie Dannenfelser announced that she'd be attending the debate in person, presumably so she can glare, like Aunt Lydia, at the candidates in case they're not sufficiently anti-abortion. "GOP candidates must state their pro-life position clearly and contrast it with the extreme and unpopular position of their Democrat opponents. Hiding from this issue and allowing your opponent to define you is political cowardice and unacceptable," she said in a release, reminding people that SBA wants candidates to support a 15-week national abortion ban at a minimum.
Meanwhile, the campaign arm of Students for Life says 15 weeks is not enough and launched a letter-writing campaign this week ahead of the debate.
The letter does seem to acknowledge the uphill battle in passing anti-abortion legislation. "Some will point to political realities as a reason for such a [gestational] line, and those are important calculations. But from those running for office, people ask for inspiration, not explanation on how nothing can be accomplished." We'd say good luck winning on a vocally anti-abortion platform, but *gestures at the Electoral College*.
"Students for Life Action challenges each and every candidate for president as well as those running for U.S. Senate and House of Representatives to articulate how they will use their position to end abortion as we know it," the letter reads in part. "Any politician whose statements on the Life issue begin with reasons that they can do nothing and end with why they will do nothing may expect nothing from pro-life voters."
The debate is all going to be very messy and we will (unfortunately) be watching.