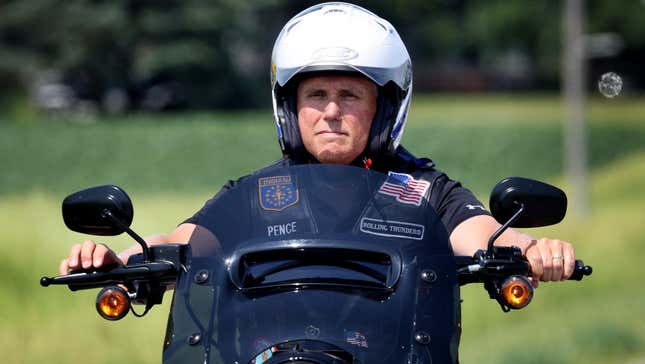 It's official: Former Vice President Mike Pence (R) is running for president. And I, for one, think that a man who still can't bring himself to condemn former President Donald Trump—despite Trump recently suggesting his supporters who chanted "Hang Mike Pence" on Jan. 6 might have been justified—is exactly the tough guy we need to get this nation back on track.

Lagoona Bloo Gives The Venga Boys' Nostalgic '90s Hit the Cover It Deserves
In an impotent little video shared on Fox News and on Twitter on Wednesday morning, the sentient dish rag declares that "different times call for different leadership." He then proclaims, "Today, before God and my family, I'm announcing I'm running for president of the United States."
Interacting with God and his family has never been a problem for Pence, it seems. On the other hand, interacting with the legions of women voters he'll soon have to appeal to does present a bit of a challenge for the former vice president. For all his recent tough-guy swaggering, posing in comical photos riding a motorcycle, Pence, you'll recall, has said he refuses to dine alone with any woman but his wife, Karen Pence—also known (primarily by Pence) as "Mother." Pence doesn't even attend events with alcohol without Mother, and when duty calls and he's forced to work late nights at the office, he recuses female aides and is staffed only by men.
These little tidbits about Pence (which should raise, among other things, serious questions about why he has to work so hard to not cheat on his wife and why he views women not as colleagues but tempting seductresses) have long been running jokes, but I have to wonder how he'll navigate the campaign trail without at some point talking to one woman or another when the nearest other person has walked away.
Of course, for all the delightful "Mother" jokes spawned by Pence's pitifully anti-social behavior, he's also wildly dangerous with a proven record of terrorizing women, pregnant people, and LGBTQ people. He's said outright that his ultimate goal is a national abortion ban, even if Republicans never win an election again. In April, he pretended that he wants medication abortion taken off the market because he has "deep concerns" for "the health and safety of women" (lol). As governor of Indiana from 2013 to 2017, Pence defunded Planned Parenthood across the state—resulting in a widespread HIV outbreak, because Planned Parenthood clinics were the only providers offering HIV testing in some communities.
Among a number of anti-abortion bills Pence signed as governor, one especially dangerous bill required people to bury or cremate their aborted embryos and fetuses. This law sparked the delightful "Periods for Pence" social media campaign in 2016, which encouraged menstruating people to bombard Pence's office with detailed updates and photos of their periods, in an effort to inform both the public and Pence that fertilized eggs can be expelled during a period without someone knowing they're pregnant, the campaign's founder said.
I don't know how he pulls it off, but Pence manages to be simultaneously very dangerous, very weird, and very bad at politics. His campaign launch comes after he outed himself for never having tried Dunkin Donuts before. Last week, he also joined the fearmongering, anti-LGBTQ attacks on the Los Angeles Dodgers for hosting a drag group at Pride Night—nearly a month after the story was even still in the news cycle, trailing behind Sen. Marco Rubio (R-Fla.) and other right-wing provocateurs who led the backlash. Yes, as we saw with DeSantis' presidential launch on Twitter Spaces last month, there's such thing as politicians being too online—but lagging behind the national conversation to this degree is equally embarrassing.
At least, to his (cartoon villain) credit, Pence was way ahead of the curve on DeSantis' prolonged, infantile feud with Disney. In a 1999 op ed for his charming right-wing radio show at the time, Pence excoriated Mulan for pushing "liberal propaganda" and advocating for women dressed as men to serve in the military.
Ultimately, I struggle to see how Pence will set himself apart in a ballooning field of Republican presidential candidates who are all, err, characters. Despite calling his wife "Mother," Pence arguably isn't even the oddest in the field, between Sen. Tim Scott (R-S.C.) proudly declaring he didn't lose his virginity until age 46 and DeSantis' generally awkward demeanor and fashion sense. But then again, he's already said that winning elections isn't as important to him as banning abortion, so he sounds fairly prepared to lose.