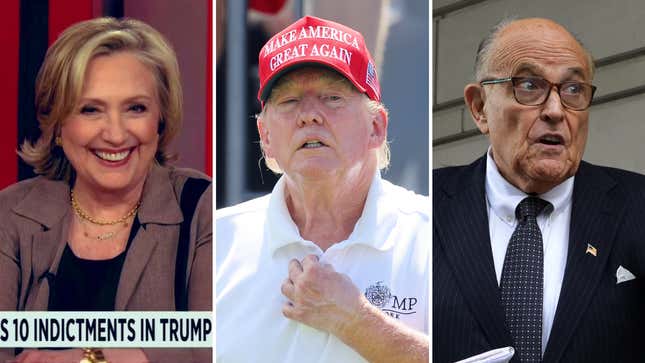 Late Monday night, a Fulton County District Attorney announced that former President Donald Trump was indicted—for the fourth time—on 13 felony charges and for leading a "criminal racketeering enterprise" to try to overturn Georgia's 2020 election results. Trump and 18 co-defendants(!) were charged under Georgia's Racketeer Influenced and Corrupt Organizations (RICO) statute, which, yes, is the law Rudy Giuliani famously wielded against the mob. Others charged include former White House Chief of Staff Mark Meadows, Justice Department official Jeffrey Clark, and whackadoodle lawyers Sidney Powell, Jenna Ellis, and, of course, Giuliani himself.
If you're having trouble keeping track, the previous three indictments of Trump were over hush money payments to Stormy Daniels, keeping classified documents after he left office, and planning the January 6th insurrection. (These are in addition to the civil case where a jury found Trump liable for sexual abuse of the writer E. Jean Carroll and awarded Carroll $5 million in damages.)
But this fourth indictment is hitting different than the others. Everyone is losing their minds over it, either with laughter (the left) or indignant rage (the right). Here are all the highlights and lowlights of the shit hitting the fan, in case you missed any good ones.