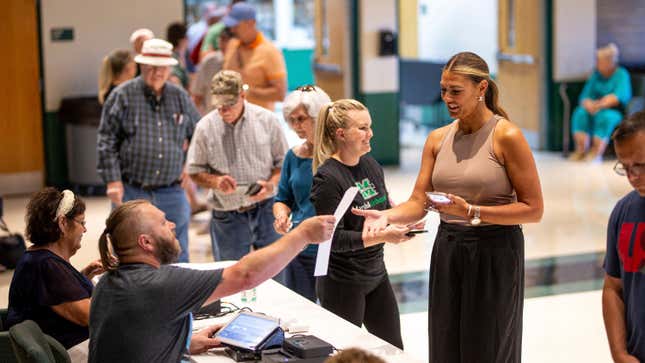 Ohio voters on Tuesday overwhelmingly rejected an effort to make it harder to change the state constitution in a special election that Republicans brazenly concocted to thwart an upcoming abortion vote. The pro-choice position has now won in all seven statewide votes since the fall of Roe v. Wade.
Alison Leiby Believes Abortion Can Be Funny — Really Funny!
Issue 1 failed by a vote of about 57% to 43%, or a nearly 15-point difference, per the New York Times. Decision Desk first called the race shortly after 8pm. (A July poll from Suffolk University found that 57% of voters opposed Issue 1, with only 26% in support and 17% undecided.) The pro-choice position of voting no even outperformed President Joe Biden in the 2020 election; Biden earned 45% of the vote in what is now firmly a red state. Early voting turnout was off the charts, and one political firm told AP that the data favored Democratic-leaning voters.
If Issue 1 had passed, it would have raised the threshold to approve constitutional amendments from a simple majority of 50% plus one up to a supermajority of 60%. The new rules would have taken effect before the November election, when a measure will appear on the ballot to codify abortion rights in Ohio's constitution.
NPR reports that the last time Ohio held an August statewide special election was back in 1926. And lawmakers actually banned summer special elections in 2022 unless a congressional seat needed to be filled, but they moved to authorize this one after abortion advocates announced their plans.
Anti-abortion groups celebrated the end of Roe for returning decisions on abortion laws back to the people. But it turns out they aren't too thrilled about the prospect of statewide elections, which aren't restricted via gerrymandering, and they seem to be scared as voters in six states—even deeply red Kansas, Kentucky, and Montana—chose the pro-choice position last year. Missouri Republicans are also pushing a similar rules change as Ohio ahead of a 2024 ballot measure. And Ohio conservatives are trotting out transphobia to try to tank the amendment.
Abortion is currently legal in the state, but only because a judge blocked a six-week ban from taking effect in October 2022. The ban could take effect during the appeals process so Ohio advocates are leaving nothing to chance. Now, advocates will turn their attention to passing the abortion amendment this November.
This is a breaking news post and will be updated.