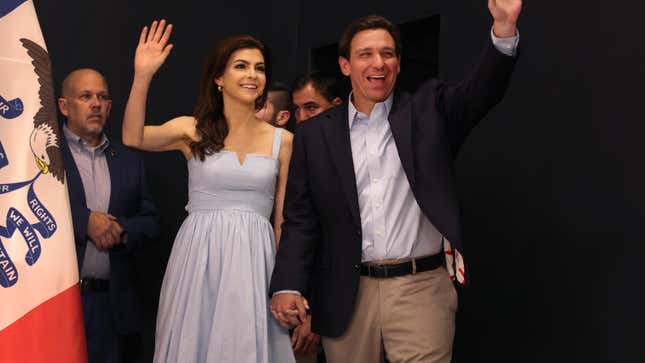 As the adage goes, the bar is in hell.
A devastatingly annoying clip is making the rounds of Florida Gov. Ron DeSantis' (R) wife Casey lavishing praise on her husband for performing the bare minimum in domestic labor while she was in treatment for cancer. The haunting moment from an NBC segment on DeSantis' stagnant presidential bid somehow manages to be worse than every campaign launch video featuring a wife silently sitting next to her politician-husband combined, which is no small feat.

"He was there to go pick up my kids when I couldn't," Casey says as she holds back tears. "And he did it with humility, and he did it with love, and I'll tell you what. You can't ask for a better husband than that."
First: "My" kids??? This is precisely why we, as a society, need to eradicate the running dad joke about dads "babysitting" their own fucking kids. DeSantis should frankly be embarrassed that he apparently plays such an unequal role in child-rearing responsibilities that Casey is convinced their kids are basically her responsibility.
"How does it feel to hear her say that?" NBC's Dasha Burns then asks DeSantis, to which he responds, visibly very proud of himself: "In sickness and in health, that's what you sign up for. So, she's not only my wife, she's my best friend."
The clip is getting plenty of play across social media as DeSantis attempts to inject life into his floundering presidential campaign, which presumably hoped that input from DeSantis' wife could help him beat the "robot" allegations. And, in some ways—all of them bad—she did! By almost crying with appreciation that a man would so much as lift a finger to help raise the kids he impregnated her with and whom they share together as a family unit (again, while Casey was battling cancer!), she reminded the world that DeSantis is, in fact, generally useless as a parent.
Casey also notes that DeSantis performed this extremely basic task "with humility," as if this he deserves the goddamn Nobel prize for picking a kid up from school. If anything, that DeSantis needed his wife to get cancer just to lift a finger—only to very loudly take outsized credit for this—makes me inclined to see the act as even less than the bare minimum.
I almost have to respect that these two have accomplished the impossible: making Chris Pratt's notorious 2021 anniversary post dedicated to his wife Katherine Schwarzenegger look less pathetic. "She helps me with everything. In return, periodically, I open a jar of pickles," Pratt wrote. At-fucking-least Pratt didn't need Schwarzenegger to fall victim to a cell-destroying disease to open said jar of pickles.
Honestly, it's a short clip, but these 20 seconds alone could be the subject matter of an entire gender studies course—though it would probably be banned in Florida under DeSantis' Stop WOKE Act. Congrats to these two responsibility-sharing lovebirds!