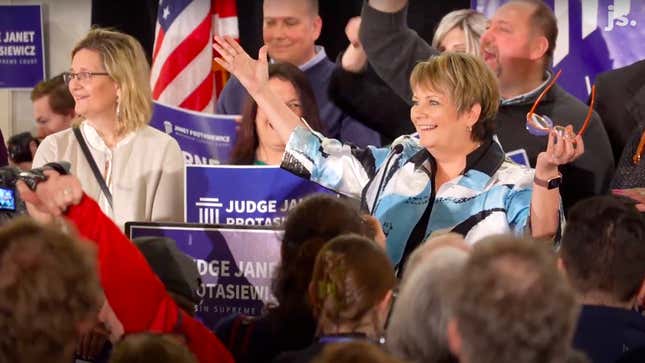 Good things do sometimes happen. On Tuesday, Milwaukee trial court Judge Janet Protasiewicz won a crucial race to become the next justice on the Wisconsin Supreme Court, giving liberals the majority for the first time in 15 years. Her win opens the door for that court to reverse the state's 1849 abortion ban; after the U.S. Supreme Court overturned Roe v. Wade, clinics halted care because of that 19th-century law.
Alison Leiby Believes Abortion Can Be Funny — Really Funny!
Restoring abortion access in Wisconsin would be important for both Midwesterners and those forced to travel to the region due to our current hellscape. (In other happy news, Michigan's Democratic Governor Gretchen Whitmer is set to sign the repeal of the state's 1931 abortion ban into law today.)
Protasiewicz won by 11 points—55 percent to 45 percent—over conservative Dan Kelly, a judge who Donald Trump endorsed for a previous run. She campaigned as an unapologetically pro-choice judge in the wake of the Dobbs decision and both reporters and election analysts highlighted the importance of abortion in Tuesday's race.
State Attorney General Josh Kaul (D) had already sued to overturn the dusty old abortion ban, but experts expect even more lawsuits, per Bloomberg. Control of the court isn't only important for abortion: Wisconsin is terribly gerrymandered and new maps could be drawn for the state house and Congress, plus it's a presidential swing state that could be targeted for false claims of voter fraud in the 2024 presidential election.
Democratic state party chairman Ben Wikler told a Washington Post columnist: "The GOP machine thought they had broken Wisconsin's democracy enough that they could rip away fundamental rights from half the population and never suffer the consequences. Tonight, an enraged electorate proved them wrong. In the state that tips the country, Dobbs, the crowning achievement of the far right, became its undoing."
But Republicans were apparently enraged that Protasiewicz was so clear about her stances, according to Semafor's Dave Weigel. He wrote: "Republicans here warn that 'the rule of law' might be replaced by 'the rule of Janet,' and that if she wins, hyper-partisan court races will become the norm." My eyes just rolled so far back that they've fallen out of my skull but I've retrieved them in order to say: Republicans, who have made the federal court nominations process extremely partisan, now want to complain about state races? That's rich.
Abortion is a winning issue and it's super clear in statewide elections like this one as well as the six ballot measure victories in 2022—and that's exactly why state lawmakers want to change the rules for citizen referendums and make it harder to vote in general.
Protasiewicz's win is almost amazing enough to make us forget that a single North Carolina lawmaker's decision to switch parties could lead to that state banning abortion and further decimating access across the South—almost.