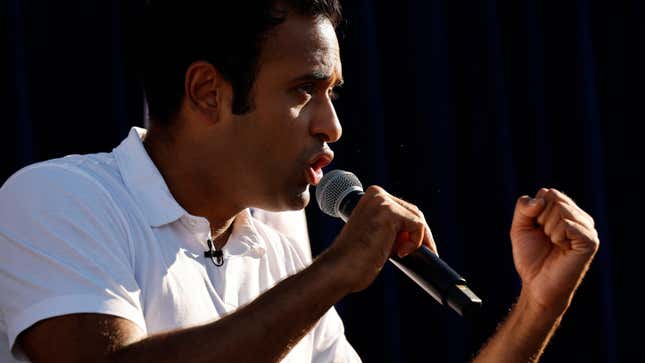 Donald Trump continues to crush the rest of the Republican field by at least 40 points ahead in the 2024 presidential primary. But one entrepreneur, self-proclaimed billionaire, and once-aspiring rapper is suddenly pulling ahead of former governors and even the former vice president in the polls: 38-year-old Vivek Ramaswamy. And he's apparently catching the attention of some prominent right-wingers these days.
Samantha Bee's New Show Will Hopefully Teach Nikki Haley 'Something About Her Body'
Ramaswamy, who worked as an investment partner at a hedge fund before founding a biotech company, is now decisively in third place per a Fox News poll published on Wednesday, at 11%—behind Florida Gov. Ron DeSantis' 16% and Trump's 53%. For some context, Ramaswamy's 11% share is more than double the fourth place candidate, Mike Pence, who's charting at 5%. Not so long ago, mind you, Ramaswamy was trailing DeSantis by 17 points, per the New York Times.
According to several reports, Ramaswamy will be DeSantis' top target going into the Republican presidential debate next Wednesday, and Ramaswamy's campaign isn't backing down from him: On Thursday, a spokesperson for the candidate referred to DeSantis as "pudding fingers," a callback to a viral ad from Trump supporters inspired by reports that DeSantis eats pudding with his fingers.
And so, finally, after months of trying to ignore the self-stylized "anti-woke," Asian-American conservative, I imagine you're here because the question can no longer be avoided: Who the hell is Vivek Ramaswamy??
On Thursday, Ramaswamy joined Tucker Carlson for Carlson's "Tucker on Twitter" show and had the former Fox News anchor appearing characteristically confused but certainly intrigued. "I hope you'll come back often, 'cause you are one of the great talkers we've ever had," Carlson tells him at some point.
Allow me to share some more tidbits that might paint a clearer, nastier picture for you. Ramaswamy is currently campaigning across New Hampshire on a platform of "10 commandments" that include "God is real," "There are two genders," "Human flourishing requires fossil fuels," and "The nuclear family is the greatest form of governance known to mankind." Where do we begin, really, except to say that pretty much all of this is scientifically wrong—all the more embarrassing coming from a "biotech" entrepreneur. That, and worship of the "nuclear family" is essentially just a dog whistle for queerphobia and upholding the same ~traditional family values~ that enable domestic abuse and even teen pregnancy.
Just earlier this month, Ramaswamy went viral for a tweet dunking on Al Sharpton by comparing the Jan. 6 insurrection to the American Revolution. He wants to redirect U.S. troops in Ukraine to the U.S.-Mexico border. He doesn't support a federal abortion ban but says "abortion is a form of murder" (nope!) and wholeheartedly embraces the state bans that are driving up maternal mortality rates. And despite his campaign's attempts at populist messaging, he spent his college years at Ivy Leagues parroting all the usual inane, right-wing "free speech" talking points. It was on campus that he also developed the libertarian rap persona "Da Vek," and the fact that he does not have a rap career but is instead running a far-right presidential campaign only bolsters my theory that many fascists are just failed artists.
Notably, however, "Da Vek" did jump out at a stop at the Iowa State Fair this weekend, when Ramaswamy broke into song and rapped Eminem's "Lose Yourself" before a decently sized crowd. Say, don't you feel like giving up your human rights to this rebellious, free-spirited young man???
One Republican pollster told Time this week that Ramaswamy, who entered the race in February as a long-shot candidate, "has been running the kind of campaign that Ron DeSantis should have run." Ramaswamy is, apparently, personable where DeSantis is robotic, and the entrepeneur doesn't have the baggage of rivals like former New Jersey Gov. Chris Christie, or Pence, or even former South Carolina Gov. Nikki Haley, who surely alienated a good portion of the Republican base by taking down the Confederate flag from her state's Capitol in 2015. She's also running on seemingly endless messaging about the need for a new generation of leadership, all while she's 51 and Ramaswamy is 38.
Personally, I am unconvinced that Ramaswamy is particularly compelling. Another billionaire right-wing hack who doesn't believe trans people and pregnant people deserve rights isn't exactly new. His meteoric rise, if anything, speaks to the utter charisma void in the Republican party right now as its 77-year-old frontman faces possible prison time.