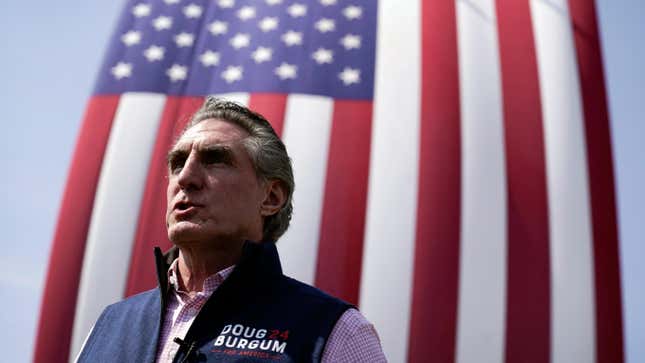 The first debate in the cursed Republican presidential primary will be on August 23. In order to get a spot on the debate stage, candidates must raise money from at least 40,000 unique donors, which is a high bar for some, uh, lesser-known or unpopular politicians—and boy are they getting creative.
North Dakota Gov. Doug Burgum (R) is a billionaire former software executive who is self-funding his campaign. (You're forgiven if it's the very first time you're hearing this man's name.) This week, Burgum announced that his campaign would send $20 gift cards to the first 50,000 people who made donations of $1 or more. His Twitter account framed the gift cards as pure generosity: "People are hurting because of Bidenflation, and giving Biden Economic Relief cards is a way to help 50,000 people until we get in office and fix this crazy economy for everyone!"

But campaign spokesperson Lance Trover admitted to the New York Times that, yes, the effort is about helping Burgum "secure a spot on the debate stage while avoiding paying more advertising fees to social media platforms who have owners that are hostile to conservatives." (Uh, does that include Twitter, owned by noted conservative Elon Musk?)
Campaign finance experts told the Times that Burgum's move could violate federal election laws. Paul Ryan, a campaign finance lawyer (not the former House speaker), said that people who get their donations reimbursed could be considered straw donors, and straw donations are banned. "Federal law says 'no person shall make a contribution in the name of another person,'" Ryan said. "Here, the candidate is making a contribution to himself in the name of all these individual donors."
Burgum isn't the only candidate pulling this kind of stunt. Perry Johnson, a Michigan businessman, has been promoting $1 hats that read, "I identify as 'Non-Bidenary.'" The Times reports Johnson's campaign has spent $80,000 to $90,000 on Facebook ads promoting the hats, and that's in addition to whatever it costs to manufacture and ship the merch.
At least former New Jersey Gov. Chris Christie has the decency to be honest by saying in a recent campaign ad "Donate today, get Chris Christie on the debate stage."