As 2010 comes to a close, we take a look back at the genre that dominated our television sets: Reality TV. Whether they're Housewives, Judge Judy litigants, pageant kids or Kardashians, we've laughed at them all. Here are our favorites.
Before getting into the official rundown of the Top 10 Reality TV Moments of 2010, we'd like to first acknowledge these clips that didn't make the list, but should still not be forgotten.
Honorable Mention 1: Bobby Brown's drug pants.



Honorable Mention 2: Ramona's runway walk.



Honorable Mention 3: Mackenzie Phillips unintentionally laughing at Mindy McCready's seizure.



And now, without further ado...
The Top 10 Reality TV Moments of 2010


10.) Kourtney maims Khloe's kooch.
The only thing weirder than getting up close and personal with your sister's vagina is putting butter on her labia in order to soothe it. That's what happened on Kourtney & Khloe take Miami, after Kourtney offered to give Khloe a bikini wax, but ended up severely burning her.



9.) "He talks American."
TLC's Mall Cops is exactly like Reno 911! except that it's real. On one episode this year, a little Asian boy was lost in the giant Mall of America. The mall cop was trying to deal with the situation when two passersby get into an argument over the boy's ethnicity, with one insisting that they get someone from the sushi place in the food court to speak to the kid. Hilarity ensues.



8.) New Jersey Housewives interface with the police.
While the weave-pulling debacle was certainly a highlight of this year's RHONJ, the most entertaining aspect of it was when the Wayne, NJ police department had to deal with all of these women— between Danielle crying at them, Ashley explaining the difference between real hair and extensions to them, and Teresa's insistence that they should get Danielle's license and information instead because, "She's the drama queen. She's the coke whore."



7.) Drunk guy almost kills another drunk guy by throwing him off a two-story balcony.
It's safe to say that The Real World has changed since it first began airing nearly 20 years ago. What started out as an interesting docu-series that followed young twentysomethings trying to transition into adulthood has devolved into a bunch of camera-ready idiots getting drunk on TV. This year on The Real World, D.C. the drunkenness and idiocy reached a new low—as one guy plummeted two stories onto a slab of cement after being pushed off a balcony by his wasted roommate. At least the whole "when people stop being polite" hook of the show is still in tact?



6.) If you have to cry, go outside don't wear bronzer.
People's Revolution boss Kelly Cutrone is famous for her stance on crying (she prefers it be done outdoors). But after her assistant Andrew ruined his fake tan with his tears on her show Kell on Earth, she might need to make an amendment to that rule.



5.) 40-year-old woman trapped in the body of 4-year-old pageant queen.
This year on Toddler's & Tiaras we had the pleasure of meeting Makenzie, a 4-year-old little girl who doesn't take shit from nobody.



4.) Lindsay Lohan' coked out of her mind.
Lindsay had a bit of a PR nightmare on her hands after being featured on a two-episode story arch of the Bravo series Double Exposure, which allowed viewers to see firsthand what a mess she'd become. The show followed the business of two high-profile photographers, who had been booked Lindsay's 6126 legging line campaign. She was 11 hours late to the shoot, keeping a staff of about 20 people waiting around for her all day, and gave no real excuse for her tardiness. Skittish, frantic, and, in a word, coke-y, she tried to rush through the shoot, so that she could go to a party. Two weeks after this episode aired, she was sentenced to 90 days in jail for violating the terms of her probation.



3.) The best cry ever.
During this Intervention, a son went falsetto when trying to explain, through tears, why his father needs to go to rehab. The addict then harmonized with a cry of his own.

G/O Media may get a commission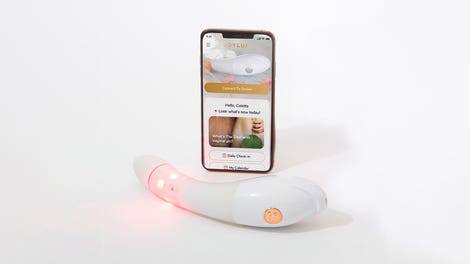 $50 Off
Joylux vFit Gold Device



2.) The cat-killing hipsters.
This isn't just the best Judge Judy credit-roll of the year—it might be the best of all time.



1.) Scary Island
The episodes that documented the NYC Housewives Caribbean vacation were epic—so much so that we had to include two satchels of gold to do it justice. First, there's drunk Ramona, to whom we are forever indebted for the phrase "turtle time."



And the ultimate moment of reality TV in 2010 was Kelly Bensimon's nervous breakdown (or "breakthrough" as she sees it) that encompassed both meanings of the term "bad trip."