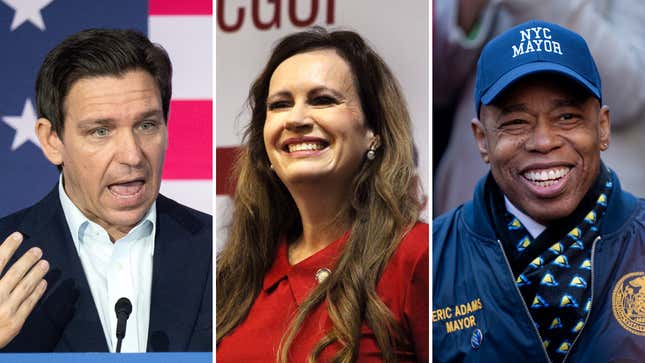 Gather round, ladies and themtlemen, for it has been another fucking horrible week in which Republicans attacked people's rights and some Democrats let them get away with it. It's so hard to keep track of everything that's going on, so I am here to summarize the bad news for you.

Pro-Abortion Protesters in NYC Have Two Words for SCOTUS
Here is a non-exhaustive list of Sue's Fuck Yous. I'm sure I missed a few bad people doing bad things, so, as always, please address them in the comments!
---
Fuck you to Montana judge Mike Menahan for rejecting Rep. Zoey Zephyr's (D) bid to return to the legislature. Republicans censured the transgender lawmaker for forcefully opposing anti-trans bills.

Fuck you to Alabama Republicans for passing a bill would make it a felony for anyone other than a family member to help someone fill out an absentee ballot.
Fuck you to the Texas Senate for passing a bill that would give the governor's handpicked secretary of state the power to overturn and re-run elections in Harris County, the state's biggest and a Democratic stronghold.
Fuck you to Florida Gov. Ron DeSantis (R) for signing a bill that would allow the execution of people committed of crimes other than murder, in direct violation of a 2008 Supreme Court decision. It's the second unconstitutional death penalty bill he's signed because he's itching for the court to overrule its precedents.
Fuck you to the Daily Wire for spending more than $80,000 on Facebook ads in an attempt to downplay gross comments its star Matt Walsh made about child rape.
Fuck you to Texas scumbag Marcus Silva for threatening to get his estranged wife arrested for obtaining abortion pills unless she gave him her "mind, body and soul" until the end of their divorce.

Fuck you to Missouri Attorney General Andrew Bailey (R) for lying about the state's abortion ballot measure by claiming that it would cost the state "billions." He also wants the ballot summary to say that it would allow "dangerous, unregulated and unrestricted abortions."
Fuck you to North Carolina Republicans for debating an abortion ban in secret, then dropping it the night before voting. Lawmakers weren't allowed to make copies or take photographs, lest word get out.
Fuck you to Texas prison guards who put an incarcerated former nurse in isolation for merely talking about abortion with other women.

And a very special, related fuck you to North Carolina state Rep. Tricia Cotham (R) who switched parties last month and voted for the 12-week abortion ban, despite having previously delivered pro-choice speeches on the House floor and co-sponsoring a January bill to codify Roe v. Wade. Something strange is going on here!
Fuck you to Texas Gov. Greg Abbott (R) for feeling the need to note that several victims of a mass shooting over the weekend were undocumented. Of course, he used a different, disgusting word.
And, finally, a joint fuck you to New York City Mayor Eric Adams and New York Gov. Kathy Hochul, both Democrats, for being unable to muster a condemnation of a white man murdering an unhoused Black man on a subway car. My expectations for you two were low, but holy fuck.

---
To (almost) everyone else, I hope you can manage to have a nice weekend.