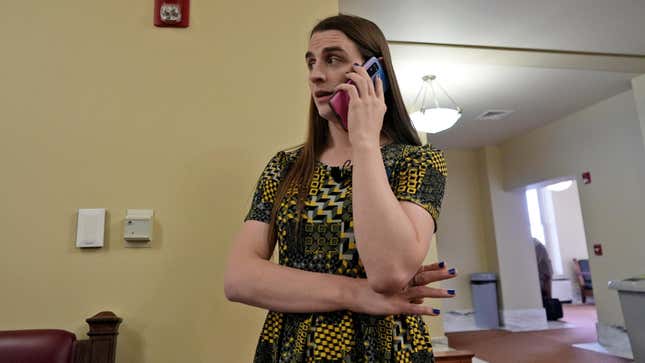 Montana state Rep. Zooey Zephyr (D), the state's first openly trans lawmaker, is suing for the right to speak in the state House of Representatives after Republican lawmakers voted to censure her last week.
Betsy Wolfe Reveals the 'Most Embarrassing Thing That's Ever Happened' to Her on Stage
"This effort by House leadership to silence me and my constituents is a disturbing and terrifying affront to democracy itself," Zephyr said in a statement on Monday morning. "House leadership explicitly and directly targeted me and my district because I dared to give voice to the values and needs of transgender people like myself."
Zephyr's lawsuit—which names House Speaker Matt Regier (R) and House Sergeant at Arms Bradley Murfitt, in addition to the state of Montana—alleges that the censure violates her First Amendment rights and disenfranchises her 11,000 constituents, four of whom joined her lawsuit. "By doing so, they've denied me my own rights under the Constitution and, more importantly, the rights of my constituents to just representation in their own government," she said. "The Montana State House is the people's House, not Speaker Regier's, and I'm determined to defend the right of the people to have their voices heard."
In April, Zephyr spoke out about the multiple anti-trans bills under consideration in the Montana legislature, and said in one floor speech that those who voted for these bills would have "blood on their hands." The GOP caucus voted to shut off her microphone in response. That, in turn, prompted a number of her supporters to gather in the public gallery on April 24, chanting "let her speak" when she was silenced for the third day in a row. Regier adjourned the chamber early that day, and seven protesters were arrested. Republicans voted to censure her because, they said, she violated decorum rules and put her colleagues "at risk" by encouraging the protesters. Zephyr has said she wasn't being hyperbolic, but instead was speaking to the real harm anti-trans laws can perpetrate.
It's not just Zephyr who is suing the state and House leadership. Dean Chou, one of Zephyr's constituents, says the censure erases his vote. "I feel alienated and disenfranchised to have my Representative expelled from debate. Representative Zephyr is my Representative on all issues— not just those that directly impact or target transgender Montanans," Chou said in the lawsuit.

The House is still in session until the end of this week, and is focusing on an important part of the state legislative process until then: the state budget. Zephyr's censure means she cannot weigh in on behalf of her 11,000 constituents. "As long as Representative Zephyr is denied her rights to debate with her colleagues and speak on the floor, I am deprived of a voice in the Montana House," constituent Sarah Velk said in the lawsuit filing. "I know that the legislature, in its final days, will deliberate on issues of great importance to me, including our state budget. By enforcing this action, the Montana House has denied representation and voice to me and all of my fellow constituents in House District 100."
The lawsuit proposes a straightforward fix: legally force Regier to allow Zephyr back into the House to participate in floor debates.
As the lawsuit progresses, some conservative Montanans have parked themselves on every single public bench in the capitol to prevent Zephyr from doing so. Montana State News bureau chief Holly Michels also said that House Judiciary Chair Rep. Amy Regier (R)—sister of the House speaker—was limiting reporters' ability to take notes on Monday: "no laptops today was specific to press."