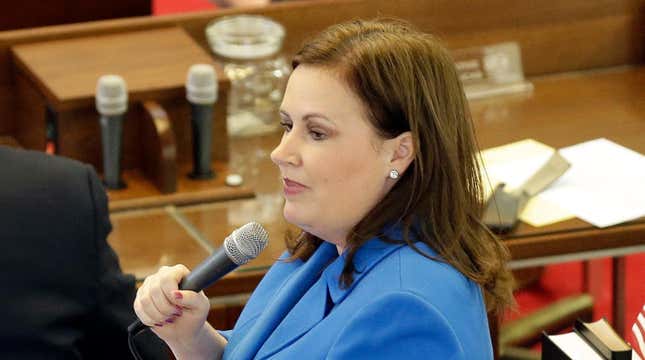 North Carolina State Rep. Tricia Cotham (D), an EMILY's List-endorsed lawmaker from a heavily blue district in the Charlotte area, switched her party affiliation to Republican on Wednesday morning, thereby handing the state's Grand Old Party a veto-proof majority capable of banning abortion, among other horrific priorities. And banning abortion is very much on the agenda in the purple state.

Alison Leiby Believes Abortion Can Be Funny — Really Funny!
"They have pushed me out. They've made it very clear they do not want me," said Cotham while wearing red at a press conference at the North Carolina GOP headquarters in Raleigh.
Apparently, one of the final straws was the pushback she received (characterized as "bullying") for using emojis 🙏 and 🇺🇸 on social media and on her car. Cotham said the Democratic party didn't let her express her opinions without the potential of public or internal criticism.
The criticism she is likely to face will center on abortion, which until joining the Republicans, Cotham had vehemently defended. In fact, the day after the leaked draft of the Dobbs Supreme Court decision that showed SCOTUS would be overturning Roe v. Wade, Cotham said she would fight to codify the soon-to-be nullified Supreme Court decision. "Now, more than ever we need leaders who will be unwavering and unapologetic in their support of abortion rights. I'll fight to codify Roe in the #ncga and continue my strong record of defending the right to choose," she tweeted in May.
Cotham becoming a Republican gives state Republicans the ability to override any veto from Gov. Roy Cooper (D). Cooper has vetoed 47 bills during his term so far. The news of Cotham's then-impending switch was first reported by Axios.
EMILY's List, a PAC that works to specifically elect pro-abortion rights female candidates, expressed outrage at the news. "If reports are true, Representative Cotham is joining a Republican caucus that has stridently opposed abortion rights, rolled back voting rights, and imposed deep cuts on public education for years. By changing parties and abandoning the principles that our community fights to uphold, Rep. Cotham is no longer eligible for EMILYs List support," President Laphonza Butler said in a statement to Jezebel on Tuesday night. "We remain committed to electing Democratic pro-choice women and will continue to hold North Carolina Republicans accountable for their extreme, out-of-touch, and cruel anti-choice agenda."
That "out-of-touch agenda" is horrific. On March 29, state House Majority Deputy Whip Keith Kidwell (R) introduced a total abortion ban with only a minor exception. Kidwell's bill, which he called "Human Life Protection Act of 2023," seeks to make performing an abortion a felony and add civil penalties, including a $100,000 fine and loss of one's professional license.
The South is quickly becoming an abortion desert, as state after state decimates access to the procedure. The map is looking extremely bleak: Abortion is either outright banned or severely curtailed, often at just six weeks gestation (before many people even realize they're pregnant), in Texas, Oklahoma, Missouri, Arkansas, Louisiana, Mississippi, Alabama, Georgia, Tennessee, and Kentucky. The only relatively bright spots are South Carolina, Florida, North Carolina and Puerto Rico, but I'd be remiss if I didn't remind you that Florida is doing its absolute best to pass a six-week abortion ban, as well.
If Florida and North Carolina are no longer able to provide abortion care—something that Cotham's party defection makes all the more likely—the closest clinics for people residing in southern states are in Virginia, New Mexico, Ohio, Kansas, and Illinois—though Republicans are now starting to come after interstate abortion travel as well, so having a health care oasis nearby by may soon become irrelevant for much of the population, anyway.