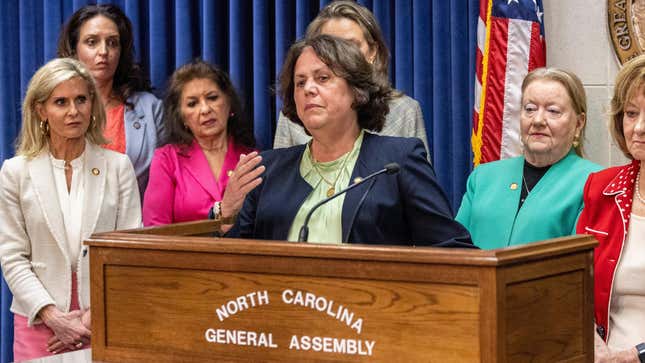 Republican lawmakers in North Carolina unveiled an abortion ban Tuesday that they'd been negotiating in secret for months; it could pass as soon as this week. The bill would ban abortion after 12 weeks, with nominal exceptions for rape and incest through 20 weeks, and would also place heavy restrictions on medication abortion. If it passes, it could further further decimate abortion access across the South.
Uterus Weekly: 15-Week Abortion Bans
The 46 pages of text were substituted into Senate Bill 20, an unrelated proposal about the "safe surrender of infants," shortly before 11 p.m. on Tuesday, which meant they could bypass the normal committee hearing process for legislation.
Republicans were reportedly pushing for a six-week ban during closed-door negotiations, but during a press conference, women GOP lawmakers claimed that 12 weeks was more of a "mainstream" proposal, the Washington Post reported. "We look[ed] at what most North Carolinians have said. This is where most of them come down," said state Sen. Joyce Krawiec (R), adding that there was "a lot of discussion, and a lot of back and forth." House Speaker pro tempore Rep. Sarah Stevens (R) called the bill "pro-woman."
Post reporter Caroline Kitchener said on Twitter that a source told her the deliberations were so clandestine that lawmakers had to hand over all their papers after every meeting.
While Gov. Roy Cooper (D) has vowed to veto abortion restrictions, Republicans now have a veto-proof supermajority after State Rep. Tricia Cotham—an EMILY's List-endorsed lawmaker from a heavily blue district in the Charlotte area—switched parties earlier this year. Exactly one year ago this week following the Supreme Court leak, Cotham tweeted that she would fight to codify Roe v. Wade into state law.

The bill would also make people take two trips to a clinic 72 hours apart for abortion procedures and three trips for abortion pills. (One trip for "informed consent," a second to get the medications, and a final in-person follow-up visit.) SB 20 would also increase funding for child care, foster care, paid parental leave, and anti-abortion crisis pregnancy centers. None of that makes it OK to force people to give birth; it's window dressing to stand up the bill name, the "Care for Women, Children and Families Act."
The leaders of the House and Senate's Democratic delegations said in a statement that "Republican leadership has once again schemed behind closed doors and silenced the voices of both members of the public and members of the state legislature in order to force a harmful abortion ban down our throats. North Carolinians believe in freedom, including the freedom to decide if and when to start a family."
ACLU of North Carolina senior policy counsel Liz Barber said in a statement that the bill "is neither moderate nor a compromise" and that North Carolinians don't support further restrictions on abortion. "Lawmakers are ignoring the democratic process in order to push through unpopular legislation against the will of the people. This comes amidst countless efforts from lawmakers to curtail voting rights and control legislative redistricting," Barber said. "Any ban on abortion is unacceptable. Everyone deserves the dignity and power to control if and when they want to be pregnant. These legislators would take that away."
The whole charade calls to mind a notorious 2013 incident where state lawmakers tucked a bunch of abortion restrictions into a motorcycle safety bill called Senate Bill 353, basically daring then-Gov. Pat McCrory (R) to veto it. He didn't.
Abortion restrictions are not popular: We know this from the 2022 midterms, six post-Dobbs ballot measures and counting, and tons of polling. This North Carolina nonsense shows how Republicans have to have to lie and rig the game in order to impose their will.