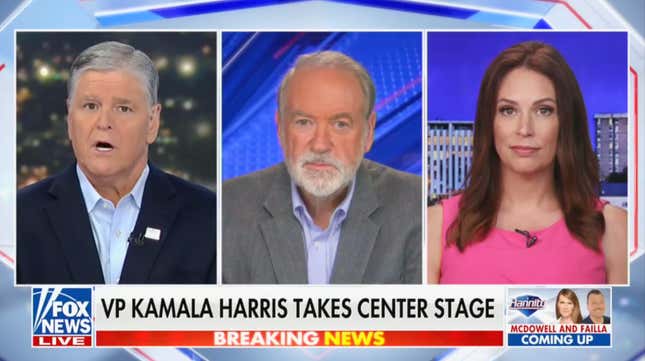 Abortion is a winning issue, and even Fox News host Sean Hannity is starting to get it. On his Thursday night broadcast, Hannity discussed the Republican Party's stance on abortion with former political candidates, Mike Huckabee and Tudor Dixon, in the context of this week's failed vote in Ohio that was called a pretext to hurt abortion rights in the state.
The Fight For Abortion Rights has Reached New Heights
On Tuesday, Ohio voters rejected a ballot measure during a special election that would have made it harder to amend the state constitution. Republicans wanted this ballot measure—which was their attempt to keep a pro-abortion measure from winning in November—passed in order to raise the threshold to amend the state constitution.
"We saw the vote in Ohio," Hannity said in a video posted by Mediaite. "I will tell you, if you look at Doug Mastriano [of Pennsylvania] and Tudor, even your race, I would argue that people that have very restrictive views on abortion, unlike say, Mississippi as of 15 weeks—that was the Dobbs decision—anything less than that, the fear among many, many conservatives is this will chase away many suburban voters."

Huckabee said Republicans have just "done a very pitiful job" of explaining their position. I would argue they've done a great job. For years they advocated against abortion, and slowly strangled the Southern states and the Midwest, taking away access. Then, after getting a charlatan to appoint anti-abortion justices to the Supreme Court, Republicans finally won. The federal protection to most abortion rights is gone. Now, we're living in that victory.
And this Republican Victory means women are suing the state of Texas, saying they're "absolutely terrified" to be pregnant again after getting sicker and sicker after a fatal fetal diagnosis. It means a teenager will spend 90 days in jail and have to endure two years of probation (and her mom will spend two years in prison) after a medication abortion at 29 weeks when she was 17. A Kentucky woman learned her fetus was missing a skull and brain, but still couldn't get an abortion. (That happened to a Louisiana woman, too.) There's a lone senator is waging an anti-military campaign from the Senate floor in an attempt to stop the Defense Department from reimbursing people for travel to abortion appointments. Michigan abortion providers are treating patients from as far away as Florida. An all-male anti-abortion panel felt comfortable publicly calling for the death penalty for abortion patients. This Republican Victory means almost two million women live in "double deserts" without either abortion or maternal healthcare options.
It sure seems like Republicans have done a great job explaining their position. It just so happens that their position is horrific. And Americans hate living in this hellscape of a Republican making.
Dixon—who lost the gubernatorial race to Michigan Gov. Gretchen Whitmer (D) who recently signed legislation protecting abortion in the state—agreed with Hannity. "[Pro-abortion policies] won over women. We saw it. We just saw it in Ohio," Dixon said. "We have to start fighting on the cultural side of it, and we have to fight on the issues that matter to people politically on the political side in a different way."
Unlike his guests, Hannity seems to understand the reality people are living in. Republicans took away the right to abortion and have taken away bodily autonomy for half the population. "I think the American people—and I consider myself pro-life, I believe in the sanctity of life, but I think politically that there is... Republicans have gotta say as Bill Clinton once said—I never thought I'd quote him—'rare,' 'legal,' and I'd add the word, 'very early in a pregnancy.' That seems to be politically where the country is," he said. "Maybe I'm wrong. But we'll see. That vote in Ohio is pretty, pretty sobering."
It should be fucking sobering. Abortion is a winning issue.