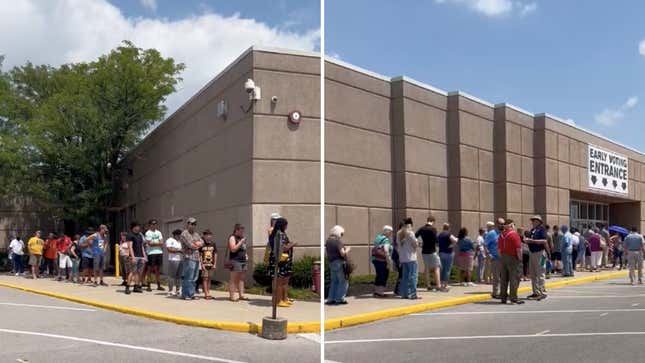 Early turnout is off the charts for the Ohio special election that will determine whether it becomes harder to amend the state constitution—an election conspicuously timed to come before a crucial abortion measure appears on state ballots this fall.

Missouri Wants to Trap Its Own Citizens
Voting ends Tuesday evening on Ohio's Issue 1, which would to raise the winning threshold for a referendum from a simple majority to 60 percent of the vote. (The pro-choice position is voting "no.") If the measure passes, the new rules would take effect before November, thereby kneecapping a ballot measure that would enshrine abortion rights in the state constitution.

But "this is gubernatorial-level turnout," Regine Johnson, deputy director of the board of elections in Stark County, which includes the city of Canton, told the Associated Press.
The AP continued:
As of Wednesday, more than 533,000 people had voted by mail or in-person since early voting began July 11, according to data collected by The Associated Press. That's nearly double the final early voting figures for Ohio's two previous midterm primary elections, which included races for governor and Congress. In the May 2022 primary, for example, 288,700 people voted early, according to AP data.
People are waiting in hour-long lines in August heat to vote, and while Ohioans don't register by political party, a political firm that tracks both early in-person and mail voting told the AP that data indicates Democratic-leaning voters are turning out in higher numbers than Republicans.
As of Tuesday [August 1], voters identified by L2 as Democrats had cast more than 52% of ballots, compared with 40% by voters identified as Republicans. Independents cast the remaining ballots, according to the firm, which models party affiliation using the partisan primary a voter most recently participated in.

So far, women are turning out in higher numbers than men, according to L2.
One woman from the Columbus suburbs, Sheila Harrell, told the AP she voted against Issue 1 and specifically cited the case of a 10-year-old Ohio girl who had to travel to Indiana to get an abortion as a reason why she wanted to codify abortion in her home state.

A reporter with NBC 4 Columbus shared a video of the early voting line wrapping around a Franklin County polling site on Thursday.
Polling shows that enshrining abortion rights in the constitution is popular, and the August 8 special election is unpopular: Ohioans overwhelmingly support the abortion amendment itself (58 percent to 32 percent), and oppose the effort to change the amendment process (57 percent to 26 percent). Plus, just one-third of Republicans who oppose the abortion measure support the GOP ploy to change the process.
Summer special elections are usually have low turnout and are expensive; they're so unpopular that the Ohio legislature banned them in 2022 unless a congressional seat needs to be filled. However, when it became clear after the 2022 midterms that abortion rights advocates were going to pursue a ballot initiative, Ohio Republicans moved to authorize this election, which is estimated to cost $20 million. (Republican megadonor Richard Uihlein, CEO of shipping supplies company Uline, is the top funder of the main group supporting the August election.)
Conservatives are stopping at nothing to block the abortion amendment: They're trying to stoke transphobia around the amendment language and, in late July, some filed a lawsuit to try to block the referendum from appearing on the November ballot. (The lawsuit seems doomed to fail, as the Republican secretary of state already certified the measure.)
Ohio will be the seventh state to put abortion to a statewide vote after the fall of Roe, and the pro-choice position has won all six times so far, even in the deeply red states of Kansas, Kentucky, and Montana. Abortion is currently legal in Ohio, but only because a judge blocked a six-week ban from taking effect in October. The ban could take effect during the appeals process.
While high turnout usually bodes well for progressives, we'll have to wait until Tuesday night to see if that's the case here.