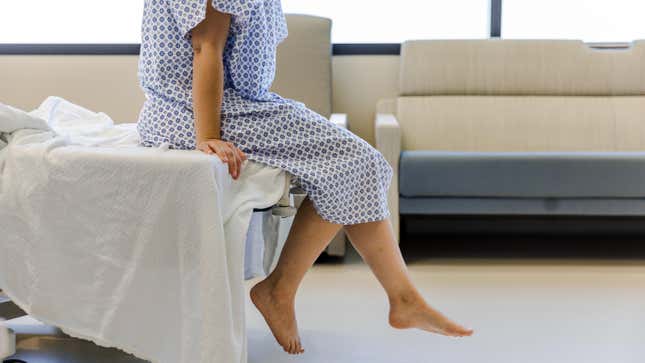 Since Roe v. Wade was overturned last June, states like Iowa and Indiana have joined multiple states that have either enacted full abortion bans or certified their "trigger bans" into law—meaning patients in those states have been forced to travel hours and miles away to places with fewer restrictions.

Uterus Weekly: 15-Week Abortion Bans
And now, in Michigan, out-of-state abortion patients have reached their highest-ever levels as abortion providers are treating people from as far away as Texas, Oklahoma, and Florida. According to Dr. Sarah Wallett, chief medical operating officer with Planned Parenthood of Michigan, the number has "tripled." Specifically, Michigan clinics saw a 66% increase in 2022 from 2021.
"Where it used to be fairly uncommon for us to see someone who lived out of state, now, it's really routine," Dr. Wallett told MLive.com. "Every day that I am in clinic, I am seeing someone who has traveled from out-of-state."
Dr. Wallett's experience is backed up by new data from Michigan's Department of Health and Human Services. There were 2,761 abortions on non-Michigan residents last year. By comparison, there were only 1,665 non-resident abortions in 2021. In fact, out-of-state abortion patients have been on the rise in Michigan since 2017.

The rise is sure to continue as Michigan's neighbor, Indiana, is set to ban abortions completely except for victims of rape and incest up to 10 weeks, or patients with severe fetal anomalies up to 20 weeks. The imminent law will also ban abortion clinics, forcing patients to seek out hospitals that rarely provide such care. Planned Parenthood's Indiana locations told local media that its surgical abortions increased 160% this year alone, and they provided "double" the amount of abortion pills to non-Indiana residents. They also recently reported that their clinics are fully booked until Indiana's near-total abortion ban goes into effect on or near August 1.
As states like Michigan continue to protect abortion rights, it means patients will be forced to flock there for in-person care, leaving their communities for what should be an accessible part of comprehensive healthcare.