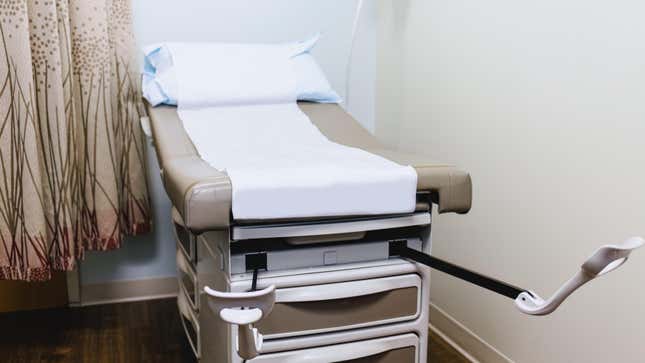 A Kentucky mother of three was forced to travel hundreds of miles to Illinois to receive an abortion after her fetus was diagnosed with anencephaly, a serious birth defect where the skull doesn't develop, at her 20-week ultrasound appointment.

UterUs Weekly: February 11, 2022
"The only option I had here was to continue carrying her with the same outcome for another you know, 17, 18 weeks," Heather Maberry, 32, told ABC News. "I said, 'I physically can't and mentally can't continue carrying her knowing that she's never gonna breathe, we're never going to have a life with her.' So, we came to the decision that we were going to try to get an abortion."
Two days before Christmas 2022, the substitute teacher found out she was pregnant. She had recently miscarried and was excited for this pregnancy to add to their three children. "I've always wanted another baby," she said. "We were super excited, but we were also very nervous because we had just lost a baby [in an earlier miscarriage]. So, we just kept trying to take care of me the best we could."
Instead, Maberry would suffer from debilitating health conditions like hyperemesis gravidarum (a severe kind of vomiting and nausea which can lead to weight loss) during the pregnancy. And then she received terrible news: Her 20-week ultrasound showed that the fetus had anencephaly. A second hospital confirmed the diagnosis.
"It felt like hell," Maberry said. "It just felt like somebody was beating me down. I mean, that was just the worst feeling in the world. The worst news any parent could ever get."
Unfortunately, her journey was just beginning. Kentucky has one of the nation's strictest abortion bans, which went into effect after the overturning of Roe v. Wade. Abortion is only allowed to save a pregnant person's life or to prevent serious health complications. On top of that, the state is fighting to keep a separate law, which prohibits abortions after fetal cardiac activity is detected, on the books. Maberry, like nearly all Kentuckians, would have to leave the state.
The abortion was estimated to cost $3,300 for the Chicago clinic. However, when factoring in traveling hundreds of miles, the costs skyrocketed. Maberry estimated their total costs for the out-of-state procedure were $6,000 to $7,000. They were only able to pay for the procedure as well as hotels and food because abortion funds stepped in.
During the procedure in Chicago, Maberry learned that her fetus was also missing toes, in addition to the lack of skull and brain growth.
Maberry doesn't blame her doctors, whose hands were tied by the law; she lays all blame at the feet of the Kentucky legislature. "I mean most of them are men," she told ABC News. "They are never going to have to carry a child. They're never going to have to be in the position, they're never gonna be the one that was carrying that baby and had to go through hell."