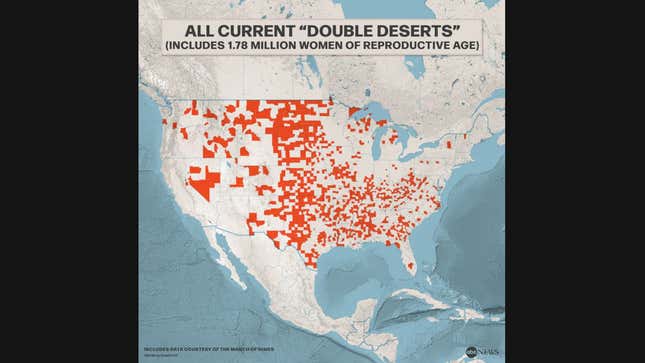 An estimated 1.78 million women of reproductive age live in a U.S. county with no access to abortion or maternity care, according to a chilling analysis from ABC News and Boston Children's Hospital. If the criteria are broadened to include counties with "low access" to maternity care, the number shoots up to 3.7 million women.

Idaho Passed a Texas Copycat Abortion Ban
The women and pregnant people trapped in these areas may have no choice but to continue a pregnancy they didn't want, or one that threatens their health, while being unable to get adequate prenatal, delivery, and postpartum care. It's the horrifying collision of the twin crises of state abortion bans and women dying from pregnancy, and experts worry that the U.S. maternal mortality will continue to rise. Black women in the U.S. are three times more likely to die from pregnancy-related causes.
The team identified the so-called "double deserts" by comparing new data from the March of Dimes on maternity care deserts with a study on counties where abortion is more than an hour drive away after the Supreme Court overturned Roe v. Wade. "What we're looking at is that the reality is one of forced parenthood for many people without access to abortion. But then you don't have the support services you need to be able to see someone through a pregnancy and delivery," said Julia Strasser, assistant research professor of health policy and management at George Washington University.
Texas, Mississippi, and Kentucky are the states with the largest numbers of reproductive age women living in double deserts. Here's a map from the analysis, flagged by writer Jessica Valenti:
One maternal mortality expert said things will likely get even worse as obstetricians leave states that restrict their ability to provide abortions for their patients. "That will just exacerbate the problem," said Eugene Declercq, a professor of community health sciences at Boston University.
Idaho—where multiple hospitals closed their labor and delivery units this spring in the wake of an abortion ban—also disbanded its maternal mortality review committee, making it the first state without an MMRC. One way to ignore maternal deaths is to simply not count them. But ProPublica reported that many states with active committees have only reported data through 2019, so it may take years to get a full picture of the toll of abortion bans. (Meanwhile, anti-abortion activists have tried to claim that rising infant death rates in Texas were misleading and could have been caused in part by immigration.)
This is a full-on human rights crisis.