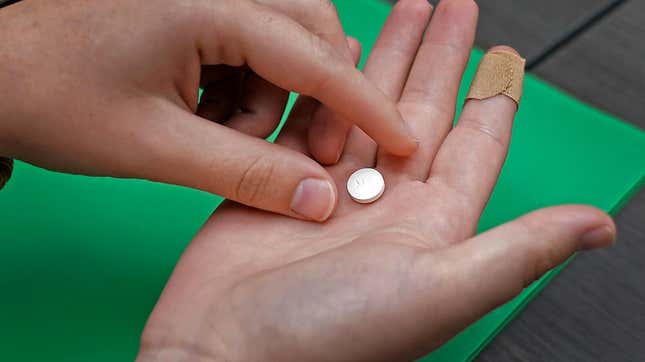 On Thursday, a Nebraska judge sentenced 19-year-old Celeste Burgess to 90 days in jail and two years of probation on charges related to ending her pregnancy with abortion pills, according to News Channel Nebraska. She was 17 at the time of the incident in April 2022 but was charged as an adult last August; she pled guilty this spring to one felony charge of concealing or abandoning a dead body in exchange for prosecutors dropping two misdemeanor charges. She had faced up to two years in prison. Her mother, Jessica, ordered the abortion pills and is awaiting sentencing on separate charges.

Uterus Weekly: 15-Week Abortion Bans
Self-managed abortion isn't illegal in Nebraska—it's only explicitly banned in two states, Nevada and South Carolina—but prosecutors can and do criminalize people for abortion, miscarriage, and stillbirth by charging them under other statutes. States have criminalized people for their pregnancy outcomes for decades even while​​ Roe v. Wade stood, but advocates worry these types of charges will only become more frequent as millions of people live under state abortion bans.
In cases like these, where Burgess had a stillbirth at about 29 weeks, it's clear that prosecutors will "stretch laws far beyond their intended scope" in order to charge people, said Emma Roth, staff attorney with Pregnancy Justice, a nonprofit advocacy group that defends the civil rights of women and pregnant people, including representing people facing criminal charges. She is not involved in the Burgess case.
"When [prosecutors] are faced with the limitations of state law and the fact that a self-managed abortion or a pregnancy loss is not illegal under state law, it's almost as if they start throwing spaghetti at the wall to see what sticks," Roth told Jezebel. "They're desperate to file some kind of charge to ensure that they criminalize what they view as immoral behavior." As a result, they create a culture of fear where women and pregnant people may be less likely to seek a self-managed abortion.
The vast majority of abortion laws criminalize providers, not pregnant people, and do not ban self-managed abortion. But Roth said prosecutors choose test cases with an eye on public opinion and are more likely to target substance users, women of color, poor women, or people having abortions later in pregnancy. They will also weaponize police-driven local media coverage. "The sort of M.O. is to publicize these cases in the most stigmatizing way imaginable with the hope that the public won't have any sympathy for the defendant and won't draw broader conclusions," she said.
So people focusing on the gestational age in this case and others are walking right into the trap law enforcement has set for us. "Prosecutors are much more likely to try to 'make an example' of someone who seeks an abortion later on in pregnancy because they deem that less morally acceptable, and they may seek charges in the hope that the public will find the facts of the case egregious and will welcome a prosecution," she said. "But the risk, of course, is that any type of precedent that a prosecutor sets when bringing a case against someone who sought a later abortion can be applied against somebody seeking an earlier abortion." All it takes is rogue prosecutors bringing these charges and right-wing activist judges accepting those interpretations of state law, she said.
Prosecutors are in effect moving the Overton Window on acceptance for locking people up for abortion when self-managed abortion isn't a crime. "It is not illegal to self-manage an abortion in the vast majority of states, irrespective of gestational age," but, she said, "this is speaking to the court of public opinion rather than the court of law." The prosecutors in this case "tried to paint a portrait of this mother and daughter in a negative light and to deprive them of their humanity and to erase the fact that we're talking about a teenager who was not ready to have a child."
The Burgess investigation began in April 2022 after someone tipped off the police about a stillbirth and the disposal of remains. Madison County prosecutors claim that Celeste was about 29 weeks pregnant when she had the stillbirth. She and her mother burned and buried the remains with the help of another person last spring before the Supreme Court's Dobbs decision overturning Roe.
According to a search warrant affidavit obtained by Jezebel, police obtained Celeste's medical records and noted one appointment in early March 2022 where she was estimated to be 23 weeks and two days pregnant. (It's not known when Celeste first learned she was pregnant or when she told her mother.) At the time, Nebraska banned abortions 22 weeks after the last menstrual period, or 20 weeks post-fertilization, which meant care after that point was unavailable in clinics or hospitals. (The state has since passed a 12-week ban that's currently in effect but facing legal challenges.) Still, these laws apply to licensed abortion providers, not people self-managing their own terminations.
Police said that, when they questioned Celeste and Jessica in late April 2022, Celeste checked Facebook messages with her mother to confirm the date of the stillbirth. Police then sent a warrant to Meta and the company complied and shared the messages, in which the pair allegedly discussed ending Celeste's pregnancy with abortion pills that Jessica had ordered. (Meta said the warrant did not mention abortion, only an investigation into a stillbirth.) A friend also told police she was there when Celeste took the first pill and said there were several computers at the Burgess home. Following that conversation, police sought additional warrants on June 15, 2022, for computers, phones, and tablets. Police charged Celeste and Jessica in early August 2022.
Jessica Burgess faces two years in prison after pleading guilty to three charges in exchange for dropping two others. She will be sentenced on September 22. Tanner Barnhill, the 21-year-old man who helped them bury the remains, got probation.
The Burgess case illustrates how it's often other people who kick off the pregnancy criminalization process. An If/When/How report from 2022 found that, in 61 cases where adults were investigated for pregnancy outcomes, 26 percent were reported to police by friends or family, while 45 percent were reported by care professionals, including doctors, nurses, and social workers.
Elizabeth Ling, senior helpline counsel at If/When/How, told Jezebel in a statement she was "disturbed" and "appalled" that, despite self-managed abortion not being illegal in Nebraska, prosecutors chose to punish a young person by weaponizing other laws against them. If/When/How runs the Repro Legal Helpline that offers legal information to U.S. abortion seekers with questions and can help connect people who've been arrested with resources.
"Every day I speak with people who are terrified that their abortion decision might put them at legal risk. That fear is pervasive, even in states that do not ban abortion, and in states like Nebraska that do not make it a crime to self-determine one's own care," Ling said. "People are reluctant to seek support from their communities, or share information with their health care providers, out of fear of criminalization. Today, the prosecutors in Nebraska have added to that climate of fear that keeps people from seeking healthcare, and proven again that the greatest danger to people who choose to self-determine their care are state actors that misuse their power."
Ling added that no one should be criminalized for their pregnancy outcome. But the sad fact of the hyper-policed United States is that such arrests will continue.

People who need assistance self-managing a miscarriage or abortion can call the Miscarriage + Abortion Hotline at (833) 246-2632 for confidential medical support, or the Repro Legal Helpline at (844) 868-2812 for confidential legal information and advice.