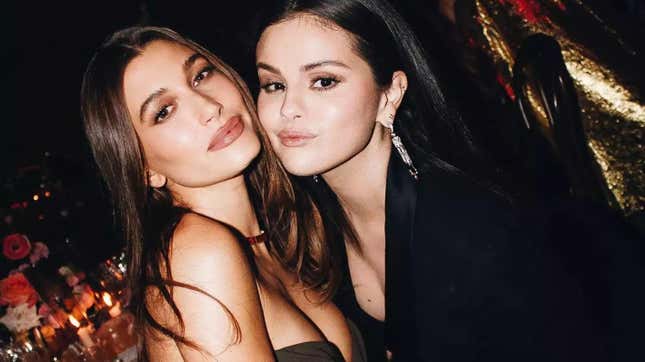 Rumors of beef between Hailey Bieber—Justin Bieber's wife—and Selena Gomez—Justin's most famous, long-term ex—have been swirling for years, as Justin dated both women on-and-off in the 2010s before marrying Hailey in 2018. But in the last week, said rumors have reached a fever pitch thanks to subtle, shady back-and-forth between the two—and, of course, one of Hailey's best friends, Kylie Jenner—as well as all the usual circus-like fan speculation and deluge of resurfaced years-old tweets and videos.

Before I get to the latest development in all of *gesticulates wildly* this, here's what's happened in the last few days: It all started when, last Tuesday, shortly after Gomez shared on TikTok that she was insecure about accidentally over-laminating her eyebrows, Jenner shared photos to her Instagram stories that fans say directly shaded Gomez. The photos included a close-up of Jenner's eyebrows with the caption "this was an accident???" and another of a FaceTime call with Hailey in which both women zoomed in on their eyebrows. Gomez and Jenner quickly addressed the kerfuffle via TikTok comments: "no shade towards selena ever and i didn't see her eyebrow posts! u guys are making something out of nothing. this is silly," Jenner wrote. Gomez replied: "Agreed @kyliejenner. It's all unnecessary. I'm a fan of Kylie!"
But wait, there's more! Despite appearing to briefly bury the hatchet (by denying that said hatchet even exists), Gomez then commented on a TikTok resurfacing a nearly eight-year-old clip of Hailey mocking Taylor Swift's music, writing, "So sorry, my best friend is and continues to be one of the best in the game." That same day, Gomez also commented "i love you" on a TikTok in which a user describes Hailey and Jenner as "mean girls."
Then, a TikToker shared screenshots of Jenner appearing to save an old video of hers in which said TikToker rehashed a viral 2015 fan-slash-tabloid theory. The theory posits that Hailey's friends—namely Kendall Jenner and Gigi Hadid—tricked Gomez into vacationing with them in Dubai for New Year's Eve so that Hailey could spend the holiday with Justin in Turks and Caicos, shortly after Justin and Gomez had broken up. Notably, after the Dubai trip, Gomez wasn't seen hanging with Kendall or Hadid again. Hmm!
G/O Media may get a commission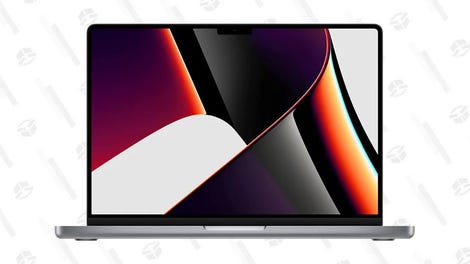 Save $300
2021 14" 1TB MacBook Pro
There are just staggering levels to the alleged Hailey-Selena beef, which fans have framed as part of a broader Cold War between the nepo-baby squad of Hailey, Kendall, Kylie, and Bella Hadid—the last of whose ex, The Weeknd, dated Gomez throughout 2017, to Bella's much-publicized chagrin—and Gomez + Swift. Meanwhile, Swift remains in an apparent feud of her own with the KarJenner family since 2016. Phew!
The fall-out of Gomez and Hailey's reignited beef has already been significant: Kylie lost over a million Instagram followers, while Gomez gained four million amid the eyebrow incident. Twitter users began tracking celebrities who had supposedly unfollowed Hailey over the spat, though, notably, nearly all of their tracking seems to be fabricated in jest. And Gomez herself took a brief break from TikTok as her shady comments drew backlash from fans who suggested she was obsessed with Hailey. "This is a little silly and I'm 30. I'm too old for this," Gomez told her followers last week.
Nonetheless, even if Gomez is done with the "silly" drama, her most militant fans aren't and have since gone on the offensive. As of Tuesday, fans have resurfaced Hailey's tweets from 2012 in which she appears to fan-girl over Justin and Gomez' relationship. In a series of tweets starting in 2011, Hailey wrote that she was "for sure 100% team #Jelena." In a follow-up tweet: "I don't care what anyone says but Justin Bieber and Selena Gomez together is the definition of a teenage dream!" In a 2012 tweet, Hailey calls #Jelena "beyond flawless" and the "perfect relationship," while lamenting being "forever alone." And in another tweet, she speculates about Justin and Gomez's lack of color-coordinated outfits at a Vanity Fair party. Gomez's fans have also reshared a decade-old photo of a young Hailey on a red carpet, holding a magazine with Gomez and Justin on the cover:
The general "Selena Gomez is better than me" sentiment has itself become a meme over the weekend, as fans have shared numerous old tweets, photos, and videos featuring embarrassing moments for Hailey and questioned why Gomez doesn't just post them and "turn off her phone." In one of the videos, Justin appears to accidentally (?) slam a car door into Hailey's face while they were "hanging out" in the 2010s; in another, he appears to skateboard away and leave Hailey behind while she trips and falls onto the ground over street barricades.
Yet another viral, resurfaced video shows Hailey appearing to prepare for paparazzi waiting outside a car, only for them to ignore and nearly knock her over in their rush to photograph Kylie.
And still more videos spewed by Gomez fans show Hailey appearing to copy varying lines and bits from Gomez's media appearances verbatim.
You get the gist of it.
Hailey, predictably, hasn't said a word about any of this, which is to be expected, as she swore on a September Call Her Daddy podcast appearance that it would be the first and last time she publicly addressed rumors about her and Gomez. She denied claims that Justin cheated on Gomez with her and asserted that she had nothing but respect for Gomez, but did express that she'd appreciate if Gomez would call on her fans to be less vicious toward her. Back in November, Gomez and Hailey took a series of photos with each other, embracing and appearing quite friendly. But, hey, a lot can change in a couple months—Hailey and Justin, first linked in 2016, started dating again in June 2018 and were engaged by July.
Take what you will from all of this. Personally, my biggest takeaway is that stan culture is utterly off the rails, and there is no way Justin Bieber is worth this much mess and drama.