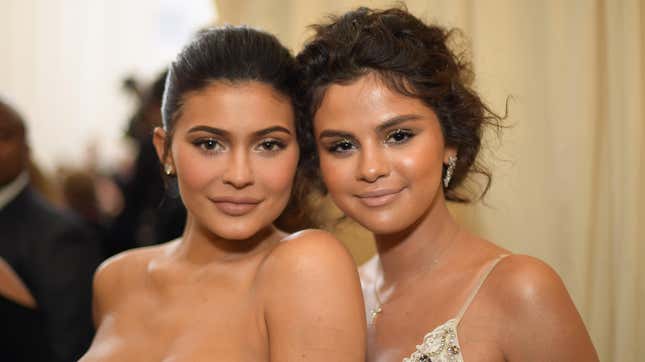 If you're not one of the 382 million people who follow Selena Gomez on Instagram, or among the 380 million people who follow Kylie Jenner, you might not be aware that Gomez has just taken back the title of most followed person on the app. From my precarious understanding of basketball, Gomez and Jenner are sort of like the 2015 through 2017 Warriors and Cavs, constantly volleying the title back and forth.

Gomez had previously held the honor of being the most followed person on the photo-sharing turned virtual mall app before she took some time off because it's toxic. Earlier this month, she told Vanity Fair that reading the critical comments on her Instagram was "a waste of my time" and that "the only thing I have on my phone is TikTok because I find it to be a little less hostile." Well, that didn't continue to be the case, because Gomez has just announced on TikTok that she's taking a break from social media altogether after finding herself embroiled in some dumb drama there.
"I'm very happy, I'm so blessed. I have the best friends and the best fans in the whole world and I just couldn't be happier," Gomez said in a TikTok live on Thursday. "And yeah, I'm gonna be taking a second from social media 'cause this is a little silly and I'm 30. I'm too old for this." What is it that's silly you might be wondering? Well, that's where things get a little bit juicier.
G/O Media may get a commission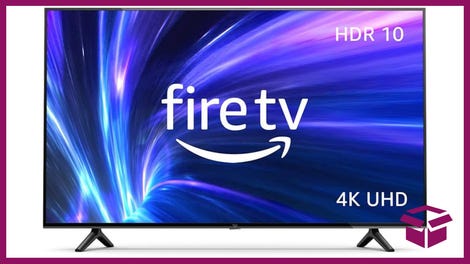 42% Off
Amazon Fire TV 50" 4K Smart TV
A TikTok user reshared an old clip of Hailey Bieber, wife of Gomez's ex Justin Bieber, making a gagging gesture when noted Gomez BFF Taylor Swift's name is brought up. Gomez, for some reason, felt the need to inert herself into the fray and commented, "So sorry, my best friend is and continues to be one of the best in the game."
Also, earlier in the week there was some even more inconsequential drama over whether Jenner and Bieber had been making fun of Gomez's eyebrows. Jenner commented and cleared the air writing, "No shade towards selena ever and I didn't see her eyebrow posts! u guys are making something out of nothing. this is silly." To which Gomez followed up, "Agreed @kyliejenner. It's all unnecessary. I'm a fan of Kylie!" Phew! Looks like we were able to narrowly avoid World War III.
Honestly, perhaps it is good that Gomez is taking a social media break! No one with a net worth over $50 million or who is Emmy nominated needs to be commenting on TikToks by users named "duckcopycat0." I hope all involved parties take time to touch their chemically treated, drought resistant LA grass over the weekend.
---