In a masterfully sly move, Kim Kardashian has posted to her Snapchat account footage revealing that, despite what Taylor Swift has claimed, the pop star signed off on Kanye West's lyrics for "Famous," the first single from Life Of Pablo. The videos capture the phone conversation in which Kanye obtains Swift's approval.
Late Sunday evening, Kardashian composed a short, but provocative tweet, urging her fans to make their way to her Snapchat account.
Lo and behold, Kardashian had leaked footage of a phone conversation between her husband and Swift—partially posted below—where Kanye asks permission to open "Famous" with its now-infamous line: "I feel like me and Taylor might still have sex / I made that bitch famous."
As Pitchfork reports, after the release of "Famous," Swift's spokesperson emphasized that West never sought her approval, and that she "cautioned him about releasing a song with a such a strong misogynistic message." Her 2016 Grammy acceptance speech also seemed directed at West and, more pointedly, the "Famous" lyrics. "I want to say to all the young women out there—there are going to be people along the way who will try to undercut your success or take credit for your accomplishments or your fame," she told the audience.
G/O Media may get a commission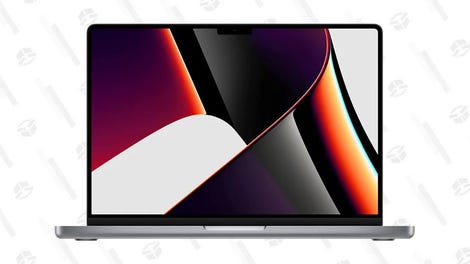 Save $300
2021 14" 1TB MacBook Pro
But in February, Kanye tweeted that he and Swift had discussed the lyrics in question:
And in a June interview with GQ, Kardashian states on no uncertain terms that Swift's claims to ignorance are hogwash — and that she had the footage to prove it:
"Swift, Kim insists, 'totally gave the okay. Rick Rubin was there. So many respected people in the music business heard that [conversation] and knew. I mean, he's called me a bitch in his songs. That's just, like, what they say. I never once think, [gasping] 'What a derogatory word! How dare he!' Not in a million years. I don't know why she just, you know, flipped out all of a sudden...It was funny because [on the call with Kanye, Taylor] said 'When I get on the Grammy red carpet, all the media is going to think that I'm so against this, and I'll just laugh and say, 'The joke's on you guys, I was in on it the whole time.' And I'm like, wait, but [in] your Grammy speech, you completely dissed my husband just to play the victim again.'"

The footage is thus intended to lay bare Swift's dishonesty. After West raps the line to Swift, she replies, "...it's like a compliment, kind of...Yeah, I mean, what's dope about the line is it's very tongue and cheek either way. And I really appreciate you telling me about it, that's really nice"
West returns, "I just had a responsibility to you as a friend, you know, and thanks for being so cool about it." "For you to ask me if I'd be ok with it, I really appreciate it," Swift continues. "I'd never expect you to tell me about a line in your song."
"Relationships are more important than punchlines, you know?" says West.
Swift, meanwhile, has posted a response to her Instagram account, claiming that she was never told West would refer to her as "that bitch."
But there are those who suspect this note was composed some time ago.
In any case, with this footage zipping across social media platform, the internet has fallen into a wild frenzy. And Kim? I expect the FBI to offer her the position of director tomorrow morning. Or perhaps the New York Times needs a new investigative reporter? Girl, you earned it.

You can read the full transcript of the phone conversation here. The footage is directly below.
---
Top Image via Getty. Embedded Images via Twitter, Instagram.