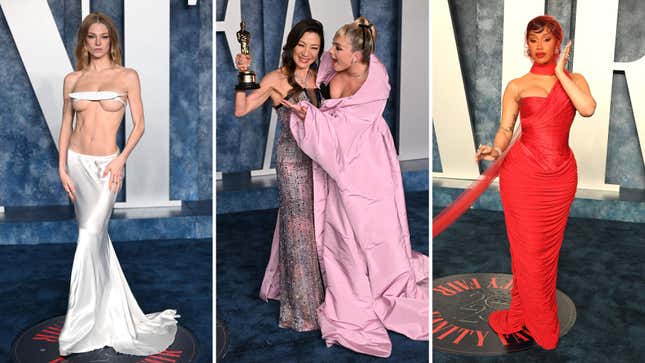 If you, like me, are tired of trying to visually process the disaster that was the Oscars' champagne carpet, I kindly welcome you to another, more pleasing site of high fashion: The easy-on-the-eyes indigo carpet at Vanity Fair's annual Oscars After-Party.
The star-studded affair is said to be the most sought-after invite in Hollywood—the place where both newly minted Oscar winners and high-buzz-value celebrities commingle, stroke their trophies (and egos), and honor the evening's biggest snubs by crying into shrimp cocktail platters.

Typically, those actors important enough to be invited to the Oscars ceremony will strip off their "timeless" gowns and tuxedos for something a little more provocative before gracing the coveted VF photo wall. And that means Jezebel's resident fashion critics get a whole second round of nitpicking, pearl-clutching, and applauding their bold, beautiful choices.

With that said, let's parse the taste and overall swagger of stars who employ an entire team of people solely to make them look good for about seven hours.