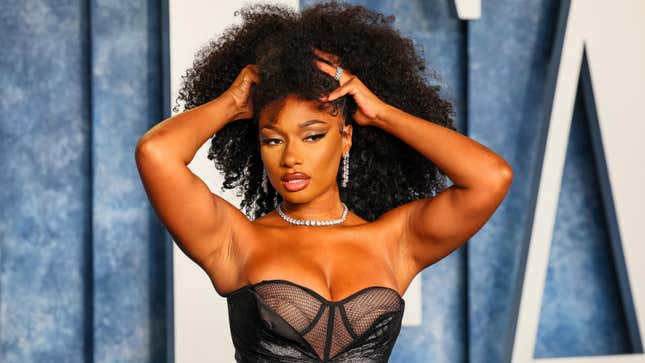 There were plenty of reasons to celebrate at last night's 95th Academy Awards. Michelle Yeoh made history as the first Asian woman, and only the second woman of color, to win the Best Actress award. Some respect was belatedly put on the cinematic triumph that is Encino Man thanks to Ke Huy Quan and Brendan Fraser's victories for Best Supporting Actor and Best Actor, respectively. And Austin Butler can finally rest as Elvis was shut out of a trophy (unfortunately, so was Tár) which—apologies to everyone involved in the film—just feels karmically correct given its exhaustive, head-scratch-inducing hype. But that's not all, folks.
Megan Thee Stallion chose the evening—more specifically, the iconic Vanity Fair After-Party—to return to the public eye after testifying that rapper and former friend Tory Lanez shot her during his felony assault trial in December. The rapper looked every bit a siren as she stunned in a silvery mermaid gown. Much-deserved privacy, as it turns out, did our girl, who's also set to reclaim the stage at an event for the NCAA Men's Final Four later this month, a lot of good.
Also at the star-studded shindig was Kylie Jenner. One can't help but wonder whether that was...awkward for Meg, given how often Jenner was mentioned in Lanez's trial. The rapper hob-knobbed with Seth Rogen, posed for a family photo with Angela Bassett and her husband and children, and danced the night away. Per Vanity Fair's account of the evening, she was also introduced to Women Talking writer and director (and Oscar-winner) Sarah Polley.
"I don't want to shake your Oscar hand," Meg reportedly told Polley. Good, and I cannot stress this enough, for her!
Other attendees included: Nancy and Paul Pelosi; Jeff Bezos; an MGK-less Megan Fox; a blanketed Justin Bieber; Billie Eilish and her boyfriend (fittingly dressed like a sad clown); a very happy-looking Adam "that body of yours is absurd" Levine and Behati Prinsloo; and New England Patriots owner Robert Kraft. Cool!
Notably missing was Hugh Grant, who's getting deserved heat for this profoundly uncomfortable red carpet interview with Ashley Graham. In case you missed it, it went a little something like this:
Graham: What are you most excited to see? Anyone to see win?

Grant: No one in particular.

Graham: What are you wearing?

Grant: Just my suit.

Graham: Who designed it?

Grant: My tailor.

Graham: What does it feel like to be in Glass Onion, such an amazing film? How fun is it to shoot something like that?

Grant: Well, I'm barely in it. I'm in for about three seconds.

Graham: But still, you showed up and you had fun right?

Grant: Uh, almost.
Honestly? It's a shame he was a no-show at the Vanity Fair party. I would give my measly savings account to read about him interacting with evil billionaires and weird elites. Next year, perhaps!
---