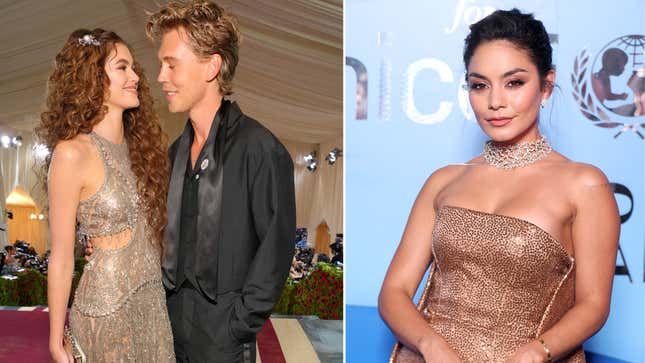 With Austin Butler's big win at Tuesday's Golden Globes for his performance in Elvis, we are all, somehow, still talking about the aggressively handsome man's inability to stop talking in his Elvis Presley voice, his relationship with supermodel Kaia Gerber (daughter of Cindy Crawford), and, of course, his overall dating history, which most prominently features ex-Disney Queen Vanessa Hudgens.

Crush of the Week: Daniel Radcliffe's Weird Al
Shortly after winning Best Actor in a Drama Motion Picture, videos show Butler and Gerber publicly making out in celebration, as the two so often do. Yet, while all that was happening, Hudgens fans and the internet in general were up in arms over Butler's recent interview for The Hollywood Reporter's Actors Roundtable this week.
In the video, Butler talks about a "friend" who—if you know anything about his dating history, is transparently Hudgens—encouraged him to take on the role of Presley someday. "The month before I heard that [Elvis director Baz Luhrmann] was making the movie, I was going to look at Christmas lights with a friend," he recalled to Colin Farrell. "And there was an Elvis Christmas song on the radio and I was singing along and my friend looked over at me and goes, 'You've got to play Elvis.' I said, 'Oh, that's such a long shot.'"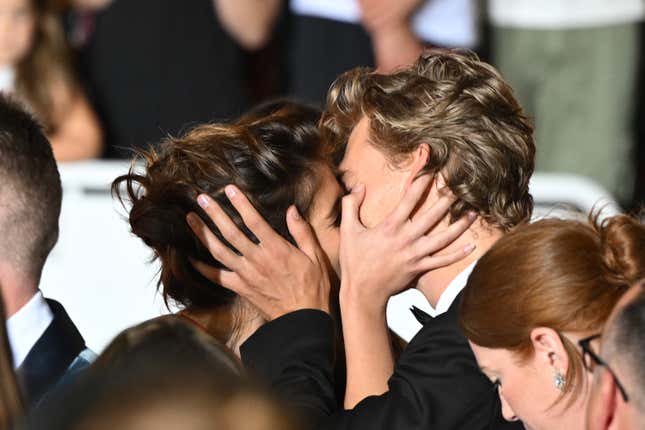 According to Butler, even weeks later, this "friend" pressed him further: "I was playing the piano. I never really sang for any of my friends or anything. That same friend was there and I was playing the piano. She said, 'I'm serious. You gotta figure out how you can get the rights to a script.' Then my agent called and said, 'So Baz Luhrmann is making an Elvis film.'"
Farrell responded, "Who is this friend? I need their…" making a phone gesture. "Yeah, I'll give you their number!" Butler said. Innnteresting…
Hudgens and Butler dated for nearly a decade, from 2011 to 2020. In 2019, Hudgens shared a story that's identical to the one Butler shared with The Hollywood Reporter this week on Live With Kelly and Ryan:
"Last December, we were driving along and we were listening to Christmas music, and then an Elvis Presley Christmas song came on. He had just dyed his hair dark. He's a natural blonde, blonde and I was looking at him and he was singing along and I was like, 'Babe, you need to play Elvis.' …

"Then in January, he was sitting at the piano. And he's playing and he's singing and I'm like, 'I don't know how, but you need to figure out how you can play Elvis. Like, I don't know how we get rights or what we do, but you need to play him."
Imagine dating a man for a decade, not just encouraging but literally giving him the idea to go up for a career-defining role, then hearing him refer to you as a "friend," and watching him passionately celebrate his triumph with a woman 13 years younger than you. Personally, all of that would amount to my 13th reason. It's not as if I found men particularly trustworthy before this, but it's going to be especially hard to trust them now. And, frankly, Twitter agrees:
"men will tell you they love you and then pull some shit like this," one person wrote. Another: "[Hudgens] deserves compensation."
"vanessa is fully justified in anything she does to him by the way," another user wrote.
Mind you, this isn't the first time Butler and Gerber's relationship has come under ~internet scrutiny~ over a reference to Hudgens. In August, a photo of Hudgens posing with a six-year-old Gerber on a red carpet in 2007 made the rounds, putting their age difference—and consequently, Butler and Gerber's age difference—in pretty stark relief.
Also for your consideration: a photo of Butler, around Gerber's age right now at the time, holding a flip phone. Very cool!!
Butler, 31, is three years younger than Hudgens, but a decade older than Gerber. At 21, the model is hardly a child, but in an industry (and patriarchal society writ large) fanatically obsessed with youth, I can't imagine it's easy to watch an ex you spent a decade with move on with someone a decade younger than you and call you a buddy.
As for Gerber's relationship history, which includes a brief stint with Pete Davidson and a substantially longer stint with Euphoria's Jacob Elordi (possibly overlapping with Elordi's relationship with Zendaya?), that's also received some attention this week. Asked by Variety about Elordi taking on the mantle of portraying Presley in Sofia Coppola's upcoming movie Priscilla, Presley's wife, Butler said of Gerber's ex: "I just wish him all the best… I hope he has a great time." He continued, "We haven't spoken, but I hope he has a great time." Hmm, I wonder why they haven't spoken—might it have anything to do with Gerber dating Elordi for nearly two years before they split in November 2021, and she was spotted with Butler a month later??
Celebs, they're just like us: messy as hell.