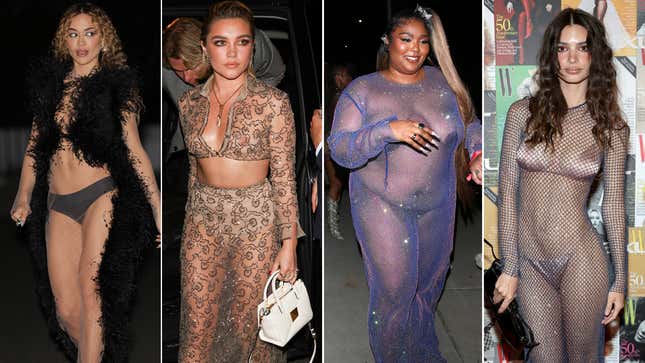 Putting together an outfit is hard. It's intensive labor; it requires so much brain power that former President Obama famously—deliberately!—wore the same thing every day to save time and cognitive energy on decision-making. That's one solution, though a very boring one. Another solution? Just don't wear clothes at all!

In 2014, Rihanna debuted the sheer, Swarovski-crystal-encrusted Naked Dress seen 'round the world, and, for a while, it seemed like it might just be a beautiful blip in the timeline of humankind. The sheer diamond gown felt like a glorious call-back to more daring eras in fashion, like, say, Rose McGowan at the 1998 MTV Video Music Awards, or Cher at the 1974 Met Gala. Flash-forward to today and, thanks to mesh, glitter, and carefully placed feathers, the Naked Dress™ is experiencing a red carpet renaissance.
At this point, you might be thinking to yourself: How many different ways could you possibly be naked in public? To that I say, take a page from pioneers like Kendall Jenner, Florence Pugh, Rita Ora, Rosalía, and Lizzo—the creativity and innovation of this latest Naked Dress craze is boundless. It's time to join them in freeing ourselves from the mental prison of crafting an outfit, and just celebrate all the varied approaches to being tastefully (and not-so-tastefully!) nude in public.