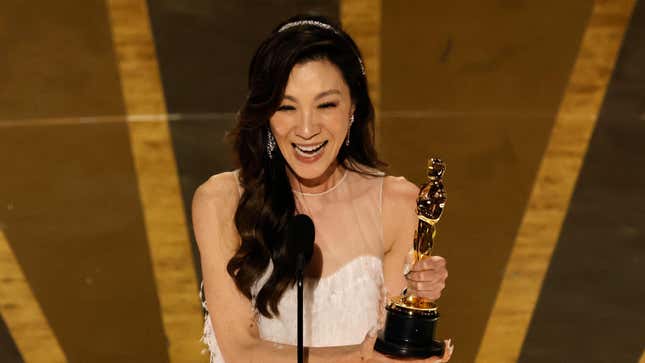 On Sunday evening, Michelle Yeoh became the first Asian woman, and only the second woman of color, to win the Best Actress award in the Oscars' 95-year history. (Halle Berry, who won 21 years ago for Monster's Ball, was the first.) The Malaysian actor, whose film career began in 1984 with The Owl vs. Bombo, and who famously has performed her own stunts—despite no formal martial arts training—in hits like 2000's Crouching Tiger, Hidden Dragon, underscored the historical significance of her win multiple times onstage.

What's Next for Oscar Winner Michelle Yeoh?
"For all the little boys and girls who look like me watching tonight, this is a beacon of hope and possibilities. This is proof that...dream big and dreams do come true. And ladies, don't let anybody ever tell you that you are past your prime," said the 60-year-old actor. Yeoh won for her multifaceted role as Evelyn in Everything Everywhere All At Once, the night's big success story, with seven wins, including Best Picture, Best Director (for Daniel Kwan and Daniel Scheinert), Best Supporting Actor (for Ke Huy Quan), and Best Supporting Actress (Jaime Lee Curtis).
"And never give up," Yeoh added. Her emphasis on her win's significance for representation echoed Berry's speech from 2002, in which Berry said, "This moment is so much bigger than me...It's for every nameless, faceless woman of color that now has a chance because this door tonight has been opened." (In a coincidence, Berry presented the Best Actor and Best Actress awards, alongside Jessica Chastain, on Sunday night.)

In the campaign leading up to the awards, Yeoh made it clear that she wanted this. "Give it to me," she told TIME, with a disarming combination of jest and sincerity." She followed that up by saying, "It's not about needing it. It's that feeling that you don't have to explain: it's love from other people. My arms are out open." More controversially, Yeoh posted on Instagram last week (and subsequently deleted a few hours later) screenshots from a Vogue piece titled, "It's Been Over Two Decades Since We've Had a Non-White Best Actress Winner. Will That Change in 2023?" Yeoh's caption read: ""This is not just for me, this is for every little girl that looks like me…🙏✨ We want to be seen. We want to be heard." People wondered whether her post violated the Academy's rules against posting on social media anything that casts "negative or derogatory light on a competing film or achievement...In particular, any tactic that singles out 'the competition' by name or title is expressly forbidden." If it did, the violation clearly did not disqualify Yeoh.
Yeoh also thanked Everything's cast and crew, and dedicated her award to her 84-year-old mother, who was watching from Malaysia. "I'm taking this home to her," said Yeoh. She thanked her "extended family in Hong Kong where I started my career," her godchildren, sisters, brothers, and family.
"Thank you to the Academy," she said in conclusion. "This is history in the making. Thank you!"