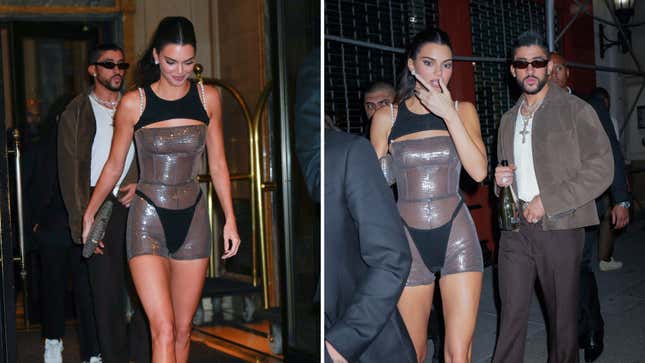 If you, like me, were hoping whatever is going on between Kendall Jenner and Bad Bunny was just a hallucination from a bad Psilocybin trip, I regret to inform you (and me) that the rumored couple seems to be very much a real thing.
Britney Spears Escapes Family Drama By Going to First Bar
At the Met Gala on Monday, a few celebs made big announcements on the ethereal steps of The Met. Karlie Kloss and Serena Williams both announced they were pregnant with their second children, for example—so it wouldn't have been a total blunder. After all, for Jenner—whom many Bad Bunny fans have been disappointed to see linking up with their fave—what better venue to show that she, an uber-rich and conventionally attractive supermodel from a famous family, is more than worth an international sensation's time?
But alas, the pair did not take official red carpet photos together at the event (which, for the record, I think was a calculated move on KJ's part to ensure fans knew she procured her Met Gala invite on her own, and not as Mr. Bunny's plus one), although they were photographed chatting later and filmed arriving back at their hotel together with Kylie Jenner and Kim Kardashian. Instead, after months of "hanging out," going on equestrian excursions, and—gasp—dining together, the duo made a somewhat, sort of, seemingly official public debut as they headed to the Met Gala afterparty.
After ditching her black sequined unitard/cape combo, Jenner changed into another sequined unitard, this one sort of sheer, with a black thong on top (I usually wear thongs under my clothes but to each her own). Bad Bunny's look was unremarkable save for the fact that he seemed to be carrying around an open bottle of champagne. Did they hold hands? No. Did they confirm that this was more than just a photo opp sleepover arranged by Kris Jenner? Also no. But aesthetically, did they have all the trappings of a celebrity power couple? Unfortunately, yes.

News of their pairing first broke in February, a few months after Jenner and NBA star Devin Booker broke up, and they didn't exactly try to keep it hush-hush. By the time they walked the red carpet on the First Monday in May, Bad Bunny had already insulted not one but two of Jenner's exes. In March, lyrics to his new track "CoCo Chanel" began circulating, in which he sings: "Yo no soy malo, nah, bebé, eso e' un gimmick / Pero el sol de PR calienta má' que el de Phoenix / Ella lo sabe," which translates to: "I'm not bad, baby that's a gimmick / But the sun in Puerto Rico is hotter than in Phoenix / She knows it." For the less-NBA-literate among us, Booker plays for the Phoenix Suns (and for the record, I'm not sure that's factually true—Arizona is famously a desert).

In response, Booker commented on an Instagram post that shared the lyrics: "He worried about another MAN again."
Then in April, during his set on the first weekend of Coachella, Bad Bunny appeared to insult Harry Styles, another of Jenner's famous exes. On the screen that served as the stage's backdrop, a tweet read, "goodnight benito could do as it was but harry could never do el apagon."
But during his Coachella performance the following weekend, Mr. Bunny (can we call him that?) used the backdrop screen again—this time to apologize to Styles: "Sorry Harry. it was a mistake from my team. We love you. <3." Unlike Booker, Styles did not respond.
Regardless, congrats to these happy-seeming hot people. In the meantime, I will remain dissatisfied until we receive official word and these two stop teasing us with their sexy outfits and their sexy backs.
---