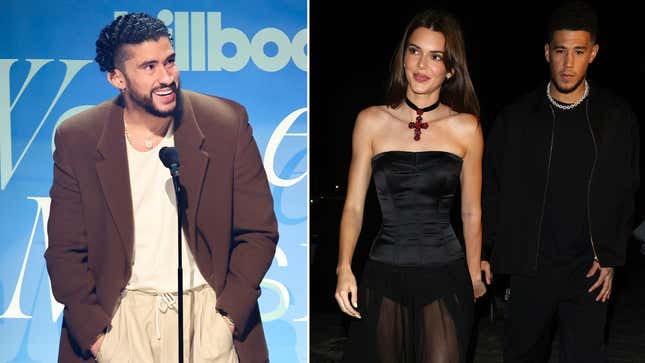 Within days of Kendall Jenner and Bad Bunny being photographed kissing for the first time, we encounter yet another twist in this hot people saga: The Puerto Rican rapper seems to have taken a less-than-subtle shot at Jenner's ex-boyfriend, Phoenix Suns star Devin Booker. On Friday, lyrics to Bad Bunny's new track "CoCo Chanel" began circulating: "Yo no soy malo, nah, bebé, eso e' un gimmick / Pero el sol de PR calienta má' que el de Phoenix / Ella lo sabe." This, of course, translates to: "I'm not bad, baby that's a gimmick / But the sun in Puerto Rico is hotter than in Phoenix / She knows it."

Taylor Lautner Doesn't Even Remember Saying 'Bella! Where the Hell Have You Been Loca?'
The lyrics are especially brutal considering how poorly we already know Booker has been taking Jenner moving on following their breakup late last year after three years together. In February, shortly after the first reports linking Jenner and Bad Bunny, Booker appeared to unfollow his ex on Instagram. Then on Friday, Booker broke his silence in now-deleted comment on an Instagram post that featured Bad Bunny's lyrics: "He worried about another MAN again."
With all due respect: Is Kendall Jenner worth all this?? All the public sniping, the bitchy social media activities—for a celebrity tequila swindler whose primary discernible personality trait is being unable to cut a cucumber? I have to say, I'm confused, especially when there's so much else that both of these gentlemen could—and should—be doing.
In December, Bad Bunny told Billboard he's "taking a break" from touring and performing in 2023 "for my physical health, my emotional health to breathe," after back-to-back tours in 2022. Very fair! But while rest and rejuvenation look different for everyone, it's hard for me to understand how starting a public feud over a KarJenner might help.
As for Booker, Mr. Phoenix Sun is not on a break at all: After returning a couple months ago from an inconvenient groin injury, Booker is sprinting toward the playoffs next month, trying to turn things around after the team's losing streak in his absence. It's not going well so far: His teammate Kevin Durant is also out with an injury, and the Suns are dealing with yet another string of losses—even as Booker has consistently gone above and beyond what could possibly be asked of a mortal in each game.
I have full faith that the team will pull through, particularly when Durant (the best player in the league) makes his comeback. But I have my doubts about how far an otherwise championship-worthy team can go with a distracted star player perennially scrolling Instagram for the latest on his ex.
All of this is to say that surely, surely, Booker has more pressing issues to worry about than Jenner and her maybe-new-man's subliminals. Her family will always need fodder for reality TV drama, and by now, Booker must be intimately aware of this, and should know better than to rise to it. There's a little something in the NBA fandom known as the "Kardashian Kurse," an astrology-adjacent, vaguely sexist prophecy that predicts the professional doom of any NBA player who gets involved with a KarJenner. My sincerest hope is for Booker to log off before the alleged Kurse claims another victim.