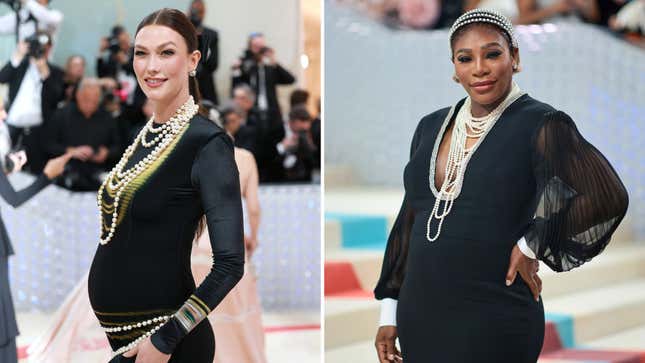 There were many trends on the Met Gala red carpet on Monday night: lots of black and white and beige outfits; lots of pearls (both an homage to the problematic honoree of the evening, the late designer Karl Lagerfeld); lots of weird designs going on around women's midsections. And in a more surprising twist, two celebs using fashion's biggest night of the year to reveal their second pregnancies—namely, Serena Williams and Karlie Kloss!

Infamously Thin-Skinned Man Joins Twitter's Board
"Was so excited when Anna Wintour invited the 3 of us to the Met Gala," Williams captioned an Instagram post in which she showed off her Gucci outfit, which included a white tulle skirt, lots of pearls, and a headband reminiscent of 1920s glamor. But just scrolling past the first photo, you might think, Huh? The three of us? That's just Williams and her extremely supportive husband, Alexis Ohanian! But click to the next slide and you're greeted with a sweet close-up shot of Williams holding her belly, staring serenely (I'm sorry) into the camera.
Kloss captioned the Instagram post revealing her look (a black, bodycon long-sleeve Loewe dress also adorned with pearls), "baby's first Met." Her pregnant belly was quite obvious when she left the Mark Hotel, where photographers and celebrity-spotters gathered to get a first look at Met Gala attendees' outfits.
"I'm honestly surprised I could keep it a secret this long," Kloss, who was wearing a black, bodycon long-sleeve Loewe dress also adorned with pearls, told ET. She and her husband, Josh Kushner, are already parents to 2-year-old Levi.
Williams and Ohanian are also expecting their second child. Their daughter, Olympia, is 5 years old. Since she gave birth via c-section in September 2017, Williams has been open about the complications she faced during pregnancy, including a pulmonary embolism that meant she was "lucky to have survived," she wrote in a 2018 CNN essay.
Congratulations all around to the expecting parents!