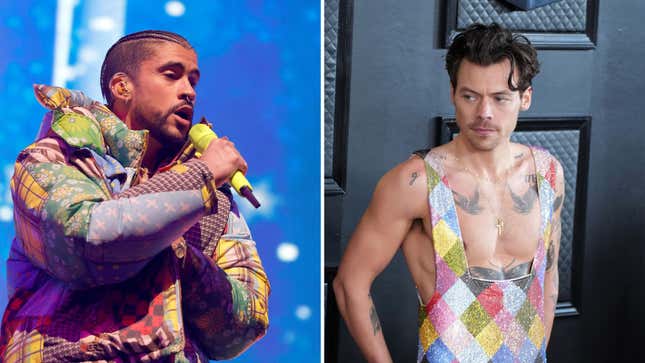 Ope! Bad Bunny (née Benito Ocasio) claims he did not mean to display a tweet in the background of his first Coachella set last weekend suggesting that he's a more versatile singer than Harry Styles—who also happens to be the ex of his current flame, Kendall Jenner.
"goodnight benito could do as it was but harry could never do el apagon," the tweet read, referring to Styles' and Bad Bunny's respective hit songs. It was splashed across the screen behind the Puerto Rican singer during his first headline performance—which he says was a mistake by his team that he hadn't personally approved. During his second weekend set, Bad Bunny displayed an apology to Styles.
"Sorry Harry. it was a mistake from my team. We love you. <3," the note read.
Sturdy.co, the visual content company that designed Bad Bunny's Coachella set art, had taken responsibility for the error in a statement earlier this week.
"Our intention is to create light hearted designs that embody Bad Bunny's personality and amplify the experience he presents as a performer," they wrote on Instagram. "The request from the artist during the visuals for 'El Apagón' performance was to use the image only and not text from the tweet, which we take responsibility for and will correct for [this] Friday's performance. These visuals are a celebration of Bad Bunny and his dedication to empowering his native island, Puerto Rico."
If displaying the insult to Styles was indeed not Bad Bunny's fault, it was an especially loaded error by his team, considering that his new boo and horse-riding buddy Jenner was right there in the audience supporting him. Jenner, you may recall, dated Styles on and off roughly from 2013 to 2016. And it certainly wouldn't be out of character for Bad Bunny to pick a fight with one of Jenner's exes: In March, he appeared to stick a big middle finger at Jenner's most recent ex, Phoenix Suns player Devin Booker, via lyrics to his new track "CoCo Chanel": "Yo no soy malo, nah, bebé, eso e' un gimmick / Pero el sol de PR calienta má' que el de Phoenix / Ella lo sabe."
This translates to: "I'm not bad, baby that's a gimmick / But the sun in Puerto Rico is hotter than in Phoenix / She knows it."
Booker then posted and deleted a comment on an Instagram post featuring the lyrics: "He worried about another MAN again."
Boys. BOYS! STOP IT!
Of course, it's possible that Bad Bunny really didn't mean to start shit with Styles this time, and his design team is just a few cards short of a full deck. It's also possible that Jenner did not appreciate seeing that arrogant tweet flashed across the screen and gave her Bunny a little talking to after the show. Pick your poison.