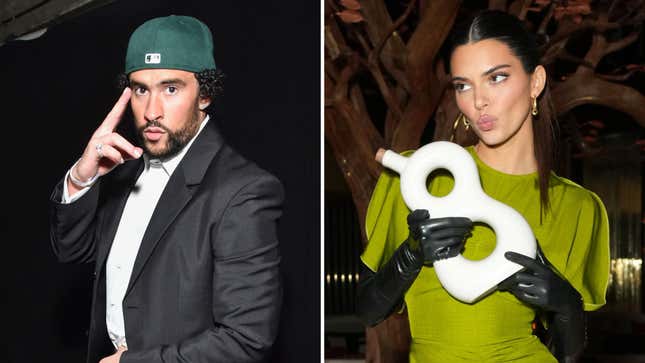 Puerto Rican musical sensation Bad Bunny has reached a specific tier of inevitable American fame: flirting/dating/"hanging out" with a Kardashian-Jenner sibling. Newly single Kendall Jenner and the rapper, whose legal name is Benito Antonio Martinez Ocasio, were recently spotted on a double date with Justin and Hailey Bieber; Deux Moi also shared that the two allegedly made out in a club; and according to People, the pair have been seen just generally "hanging out." Is there any more universal precursor to love than that!?!
"She likes him and is having fun," a source told People. "He is different from guys that she dated in the past. He is very charming." No need to drag Jenner's ex, Devin Booker like that, but point taken... Bad Bunny, who currently holds the record as the top-streamed artist on Spotify for three years in a row, certainly knows how to charm the masses. While things may appear smitten in the little love bubble these two have (or have not! who knows!) created, a low roar rumbles in the distance. What is it? Legions of devout Bad Bunny fans who are ready to take up arms against Jenner.
Fans are upset. I get it. Bad Bunny has rightfully ascended to the throne as the world's most crush-worthy human, and Jenner had to address the media last week about having weirdly long fingers. There's a— como se dice—sensual discrepancy between the two. It also feels somewhat cruel that a proudly sexually fluid man, who undoubtedly has a roster of enthusiastic and willing paramours longer than a Cheesecake Factory menu, has chosen to spend romantic time with the woman behind 818 Tequila. The tequila, for the sake of a good metaphor, has been described (pretty much across the board) as "vanilla flavored."
Of course, we don't know exactly what's going on between Jenner and the man taking up real estate in many of our fantasies. Perhaps they're just good friends? Maybe there's an even worse possibility that the Biebers are trying to recruit him into their weird church? But it does feel disappointingly underwhelming that yet another intriguing and unique pop star has been lured in by the Kardashian-Jenner clan—an empire built on talentless sand. What song do these sirens possess?
We shall see how this fling unfolds. Should Jenner be worried about the mobs calling for her to step down, she has a tried-and-true trick in her back pocket: Just pop open a can of ice-cold Pepsi.