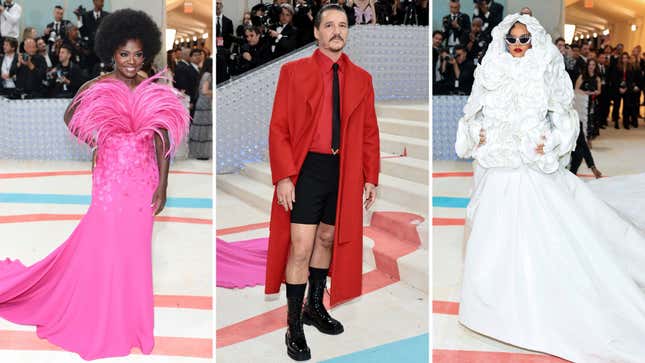 The first Monday in May! Fashion's biggest, spendiest night of the year! The Met Gala is upon us.

Tonight, Anna Wintour has decided to honor the legacy of her good friend, a man who once said, "If you don't want your pants pulled about, don't become a model": Karl Lagerfeld. While I have no illusions about the integrity of fashion's blue bloods, it's still disheartening for this year's theme to be "Karl Lagerfeld: A Line of Beauty." Perhaps, though, in the sense that the bigoted, fatphobic, and sexist late Chanel creative director found anyone with a frame thicker than a straight line to be unworthy of fashion, it's an apt phrase.

Along with Wintour, co-chairs of this year's event, which serves as a fundraiser for the Metropolitan Museum of Art's Costume Institute, are Michaela Coel, Penélope Cruz, Roger Federer, and Dua Lipa.
People were hotly anticipating that Kendall Jenner, the world's most underwhelming fashion model who was also friends with Lagerfeld, would make her public debut with horseback riding companion, Bad Bunny—though they showed up separately. And of course, the promise of Rihanna, who's nailed every single Met Gala theme (and basically everything else) she's attended, arriving bedecked in a $25 million worth of crystals and very pregnant with baby #2 puts a bandaid on the Lagerfeld bullet wound.

One way I'm choosing to look at it is that Lagerfeld would be miserable seeing people larger than a size 0 (he once said Heidi Klum was "too heavy and has too big a bust") wearing Chanel at an event in his name. It's nice to think of him being a little bit annoyed at any semblance of body positivity, wherever he is now. (Hell?)
So buckle up, it's big dress time! (We're going to be updating this slideshow throughout the evening, so check back for more l0oks.)