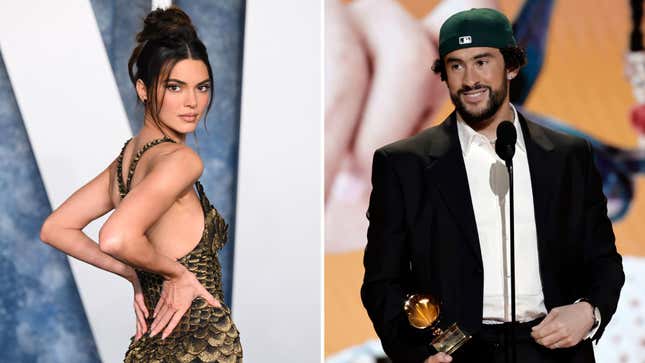 The horsie in Kendall Jenner's heart goes, "Clip clop, clip clop."
A longtime horse girl (red flag!), Jenner was spotted with rumored beau Bad Bunny at the Hidden Hills Equestrian Center on Sunday. TMZ obtained photos from the outing and remarked of the couple: "They look tight." Scintillating.

Britney Spears Escapes Family Drama By Going to First Bar
According to eyewitnesses who must have been hiding in bushes, the duo took turns riding horses, "tool[ed] around at the corral and some nearby trails," and later shared a horse—Jenner in front and Bad Bunny cuddled up behind her. Jenner took selfies of the moment, obviously.
The pair were first linked back in February, and things appear to be getting a little more…stable (I'm so sorry). Since then, Kendall's ex Phoenix Suns player Devin Booker has unfollowed the model and engaged in some petty back-and-forth with Bunny. I'm sure the thought of the singer not only riding with KJ but also riding KJ must be making him sick. Sorry Book! We know a certain someone who can make you feel better, if you ever need a little company.

Elsewhere in equestrian elites, Tom Brady is now a certified "horse dad," as he was spotted at the Winter Equestrian Festival at Wellington International in Florida over the weekend, according to Page Six. He joins a very exclusive club of fellow obnoxiously wealthy horse dads including Bruce Springsteen, Michael Bloomberg, and Bill Gates. Horses, so billionaire chic right now.

Brady's 10-year-old daughter Vivian, whom he shares with ex Gisele Bündchen, is apparently an avid rider, though several "insiders" have some, uh, opinions about the stable she frequents. "His daughter has been riding at a real dump of a barn… He is ready to up his game," one source said. Ouch!
Of course, one cannot simply drop a newly divorced and recently retired NFL player into a pit of cougars and expect him to go unscathed: "It's the buzz of equestrian moms that they are going to get to watch Brady ringside," the source told Page Six, adding that the current meal du jour "Bill Gates isn't really cutting it." Best of luck to Brady dodging the equestrian moms—sounds like his run game is really going to come in handy at the stables.
---